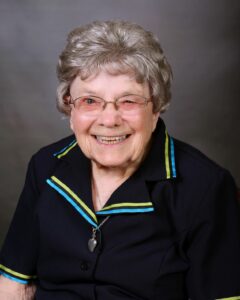 85 years as a vowed member of the Adorers of the Blood of Christ
Sister Leona made her first profession on August 7, 1935 and her final vows on August 10, 1940.
Sister Leona was born in Schoenchen, Kansas, to Clement and Anna Riebel. She received a bachelor's degree in education from Sacred Heart College, now Newman University, in Wichita, Kansas, in 1954, and a master's degree, also in education, from Kansas State Teachers College in Emporia, Kansas, in 1971.
Sister Leona's ministry in education was spent in the primary classroom at St. Mary in David City, Nebraska; Carlsbad, New Mexico; Trinity in Okarche, St. Matthew in Canute and Stillwater, Oklahoma; St. Mary in Aleppo, St. Mark in St. Marks, St. John in Spearville, Sacred Heart in Emporia and Ashland, all in Kansas; at Christ the King, St. Francis of Assisi, St. Anne and St. Margaret Mary, all in Wichita. After more than 40 years in the classroom, Sister Leona was assigned to Catholic University of America in Washington, D.C. as a library conservation assistant. She also served in the Holy Ghost Development Office in Silver Springs, Maryland, as a data entry computer operator and at the National Shrine of the Immaculate Conception Basilica in Washington as an accountant assistant.
When Sister Leona retired to the Wichita Center, she served as a seamstress for the sisters living in the Center. In her spare time, she still knits stocking caps for Operation Holiday, a program to help the poor at Christmas. She usually knits several hundred caps each year.