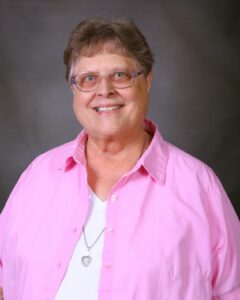 60 years as a vowed member of the Adorers of the Blood of Christ
Sister Bernice made her first profession on July 1, 1960 and her final vows on July 1, 1965.
Sister Bernice was born in St. Rose, Illinois, to Arthur and Regina (Rehkemper) Klostermann. She earned a bachelor's degree in Latin in 1964, and a master's in elementary school administration in 1979, both from Saint Louis University. She also has an associate's degree in data processing from Belleville Area College in Belleville, Illinois, and a certificate in theology from Fontbonne University in St. Louis.
Sister Bernice began her ministry as a teacher of Latin at Althoff Catholic High School in Belleville. She then taught elementary students at Immaculate Conception in Columbia, St. Augustine in Belleville, St. John the Baptist in Smithton and Damiansville Public in Damiansville, all in Illinois. She also taught in the Missouri schools of St. Augustine in Kelso, Visitation in Vienna and Guardian Angel in Oran. She also had a dual role as both teacher and principal at Kelso, Missouri, and Smithton, Illinois. She was a bookkeeper at Southern Illinois Hospice in Belleville and secretary for the small business department at Belleville Area College. She worked with Project Unmet Needs at Maria's Vineyard in Cairo, Illinois, for several years.
Sister Bernice served her community as co-director of the ASC Associate program for the former Ruma province, then as administrator of the Ruma Center. For nearly 20 years, she has been coordinator of Sisters at St. Anne's Retirement Community in Columbia, Pennsylvania.