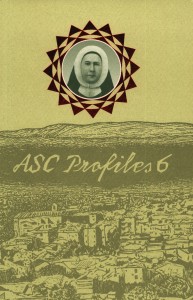 The first Adorer in the United States, Sister Clementine Zerr was a pioneer who was described by her contemporaries as "timid." But her timidity didn't stop her from loving Christ and the Church and journeying to a new continent.
The political turbulence of Europe in the 1800s, the uncertain journey over the Atlantic Ocean, the harsh and wide-open territory of the central United States, these were the arenas in which this untiring woman moved constantly. Nothing seemed to stop her or dissuade her fidelity.
Written by Mary Pauline Grady. Reviewed and critiqued by Sisters Loretta Gegen, ASC, Emmanuel Palus, ASC, and Angelita Myerscough, ASC.

© 2001 International Center of ASC Spirituality – Adorers of the Blood of Christ
Profile Excerpt
Barbara Zerr, the future Mother Clementine, destined to establish the Adorers of the Blood of Christ in the United States of America, was born December 8, 1832, in Sasbachried, Amt Buel, in the Black Forest area of Baden, Germany. When she died seventy-three years later, half a world away in Wichita, Kansas, her determined and eventful trek through history would position her as the one largely responsible for the international character of the congregation founded in Italy by Maria De Mattias.