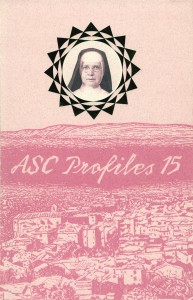 A Catholic sister living the life of the pioneers amid Kansas dust storms on the Great Plains, Beata Netemeyer dedicated her life to obeying God. The courage of her faith makes her decide what for others might seem madness.
Written by Sister Loretta Gegen, ASC. Reviewed and critiqued by Sisters Loretta Gegen, ASC, Emmanuel Palus, ASC, and Angelita Myerscough, ASC.
© 2002 International Center of Spirituality – Adorers of the Blood of Christ
Profile Excerpt
The hot sun shone brightly over the convent of the Sisters Adorers of the Blood of Christ in Wichita, Kansas, on July 2, 1945. The usually quiet place had been astir for several weeks. Sisters had been returning to the Province Center at the end of their school year assignments, had been making retreats, and then had been hurrying off to various universities to add summer credits to their teaching credentials.
A newly professed Sister watched a tall nun leaving chapel several steps in front of her and asked, "Who is that?" An older Sister followed the inquiring glance of the newly professed and responded, "That is Sister Beata, the first provincial superior here in Wichita. She just got home yesterday from Carlsbad, New Mexico, where she has been missioned for several years."