Today begins 12 days of remembering our missionary Sisters who died this month, 24 years ago in Liberia, during that African nation's brutal civil war.
Adorers had been in Liberia since 1970 educating girls, working in health care and doing other ministries. They had come at the invitation of the SMA Fathers, Society of African Missions, based in Tenafly, N.J., who begged the Sisters to come. Many did.
But in the 1980s, as the war heated up, human rights were violated, and unrest and chaos ensued, it became more difficult to stay.
Yet they did, because in the words of Sister Shirley Kolmer who said during a home visit while recuperating from malaria, "I just decided that whatever I'm going to do, I'm going to make a difference."
On Oct. 20, 1992, Sisters Mary Joel Kolmer and Barbara Ann Muttra were ambushed and killed on a road they had taken to drive home a convent employee. Their partially charred bodies would not be found for weeks.
Three days later, on Oct. 23, gunmen pulled up to their convent in Gardnersville, outside the capital of Monrovia, where the Sisters lived. The women were ordered to come out.
Sister Kathleen McGuire came outside first and was fatally shot. Then Sisters Agnes Mueller and Shirley Kolmer were ordered outside, and were shot to death.
Other occupants in the house fled to tell the bishop in Bonga, Bomi County, Liberia. The news had to be surreptitiously delivered via a radio operation in Ivory Coast. The news was under wraps for days.
The Sisters back at the motherhouse in Ruma, Ill., would not find out until Oct. 31, when a call was placed at 2 a.m. to then-Province Leader Mildred Gross.
At 5 a.m., the news was delivered first to Sisters Elizabeth Kolmer and Mary Ann Mueller, whose own siblings were among the dead. Sister Elizabeth Kolmer remembered.
"It was a Saturday. I woke up to Mary Ann knocking on my door and telling me, 'You're supposed to call Mildred.' I could tell something had happened, and I said, 'Tell me.'
"I'll never forget what Mary Ann told me: 'They're all dead.'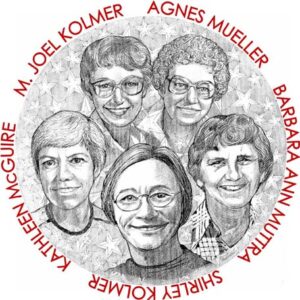 "We sat down on her bed and cried."
The women's remains would not arrive in the U.S. until six weeks later, in December. They were flown to Dover Air Force Base.
"Sometimes, I wonder how we ever got through that time," Sister Elizabeth Kolmer said.
---
We invite you to remember the Martyrs of Charity this week especially, on the anniversary of their deaths, celebrating their continued witness to lives of courage, compassion, and commitment.