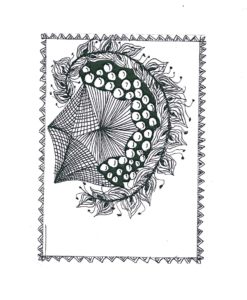 By Sister Diane Tenbrink, ASC
I have done art journaling since I was a young sister, and a friend and I would do it while sharing about our personal challenges in life.
This same friend later told me about something called Zentangle, which I have been doing now for more than 12 years.
Practitioners create Zentangle designs with black ink and pencil on 3.5 square-inch tiles for abstract yet beautiful, intricate patterns. The practice is said to increase focus, reduce anxiety, aid meditation and tap creativity.
It helps me focus and relax and put all of my attention on what I'm doing. Our minds can be quite busy. With Zentangle, the mind naturally begins to settle down and goes into a meditative state.
I do not have any image in mind when I start. I follow the movement within me. I start out with meditation and prayer and thank God for the materials before me to use. I like to have soft music in the background. For me, it's a form of prayer. It can take me deep within and I feel very close to God.
Zentangle was founded 12 years ago in the U.S. by Rick Roberts, a Zen monk, and Maria Thomas, a calligrapher, when they discovered that the act of drawing patterns with the constraint of a few basic rules was extremely meditative. Historically, Zen Buddhist monks used drawing as a form of meditation.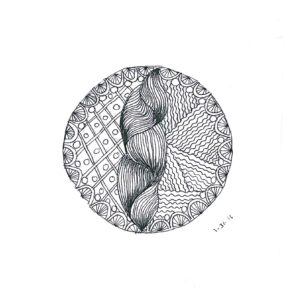 For anyone who wants to Zentangle, here are a few things to keep in mind:
You don't have to be an artist; anyone can do it.
The Zentangle form of meditative drawing is not the same as doodling, in which drawing is a secondary activity while one's attention is elsewhere. With Zentangle, the primary attention and focus is on the drawing.
Certified teachers teach the basics of Zentangle.
Learn more at zentangle.com.
Over the years, I have invited two certified teachers to teach the basic class at the Wichita Center that has drawn a dozen students each.
It's very much a part of my daily life, and made it so much richer. I also do Eastern religion symbols known as mandalas that also help focus attention, aid meditation and create sacred space.