Nurse, Therapist and Courageous 'Sis Ann' Dies at 91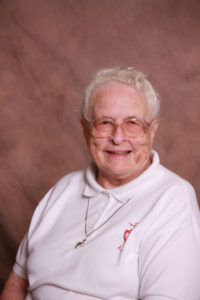 Sister Ann (Elizabeth Frances) Connolly, ASC, died on Saturday, January 12, 2019 at the Ruma Center, Ruma, Illinois. She was 91 years old and had been a professed member of the Adorers of the Blood of Christ for 72 years.
Sister Ann was born on May 15, 1927 in Assumption, near Pana, Illinois. She was the only child of the late Ernest and Catherine (Shannon) Connolly. Sister Ann made her first vows on July 1, 1946 and her final vows on July 1, 1951.
She earned her R.N. from St. John's Hospital School of Nursing in Springfield, Illinois, in 1949, her bachelor's degree in occupational therapy from the College of St. Catherine in St. Paul, Minnesota in 1958 and her master's degree in theology from Aquinas Institute in St. Louis in 1985.
She was a nurse at St. Clement (now Red Bud Regional) Hospital in Red Bud and at St. Vincent (now Taylorville) Memorial Hospital in Taylorville, where she also worked in occupational therapy. While at the Ruma Center for her last 15 years in nursing, she also taught in the college program at the Center and worked part time at St. Clement Hospital. She then joined the pastoral care department at St. Clement.
Sister Ann spent her final 25 years in active ministry as case manager and in other roles at Catholic Urban Programs in East St. Louis, Illinois, where clients knew her as "Sis Ann." She worked in the food pantry, served meals on the Mobile Soup Bus, consoled and counseled clients, visited seniors in nursing homes and delighted children as the Easter Bunny, Santa Claus and a clown.
She wrote of her life, "I just get up each morning, see what the Lord is doing and join Him."
Sister Ann was honored in 2004 with the national Lumen Christi Award, which recognizes outstanding contributions to mission, for her work in East St. Louis for which she was nominated by Wilton Gregory, then bishop of Belleville.
The award noted that after her home was ransacked and her car stolen by assailants who held her at gunpoint, she still showed up for work the next day. "If a person is afraid," she said, "they should do something else."
Sister Ann retired to the Ruma Center in 2009 to continue hobbies and pray for the many needs of the world.
Sister Ann is survived by several cousins, many friends and the members of the Adorers of the Blood of Christ. She was preceded in death by her parents and several cousins.
Visitation begins at 8 a.m. on Saturday, January 26, 2019 in the chapel of the Ruma Center. A prayer service will begin at 10 a.m., followed by the Mass of the Resurrection at 11 a.m. Burial will be in the Ruma Convent cemetery.
Donations in memory of Sister Ann Connolly may be sent to the Adorers at 4233 Sulphur Avenue, St. Louis, MO 63109 or online at www.adorers.org "Memorial Donations."