To the world, he's Blase Cardinal Cupich, the ninth archbishop of the Archdiocese of Chicago, appointed two years ago by Pope Francis.
But to Kathy Schulte and her seven other siblings, he's just Blase, the "ornery" brother who teased his five sisters, shared a room with three brothers and delivered newspapers after school.
Kathy, administrative assistant and IT contact at the Wichita Center, traveled to Rome last month with 62 other relatives and friends to mark her brother's elevation to cardinal.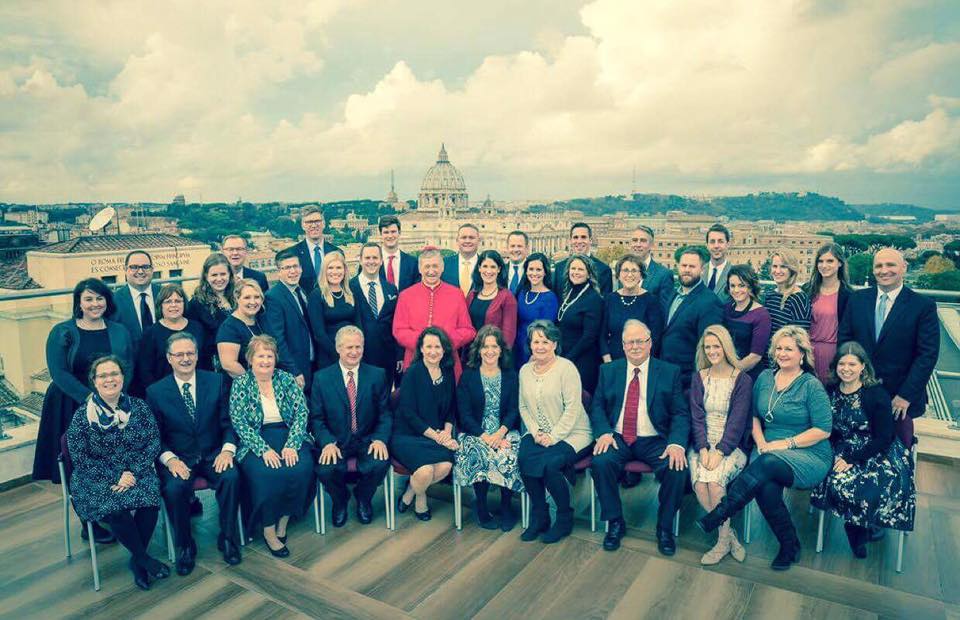 "People ask us all the time, 'how does it feel to have a cardinal in the family?'" she said. "We don't think of him as different. He's one of us. We'll laugh among ourselves that people call him "Your Eminence" and kiss his ring. We're like 'Really?'
"He doesn't want to be treated any differently."
All but one of the cardinal's eight siblings were able to fly to Rome for the ceremony and celebration. Also attending were their spouses, except Kathy's, for health reasons, nieces, nephews, first cousins and spouses and the Cupich children's last living aunt, who is 85. Joining family were friends and associates from the cardinal's time as leader of the church in Rapid City, S.D., and Spokane, Wash.,
The Archdiocese of Chicago, in conjunction with the Catholic Extension, organized a pilgrimage to Rome and a one-day trip to Assisi. The group split up into four hotels. Family stayed at the Visconti Palace Hotel, where Kathy said she learned to drink cappuccino from the bar.
"I miss the coffee, the pastries and the gelato," she said.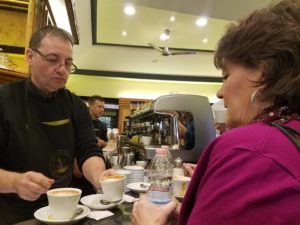 Blase Cupich was the third-oldest and Kathy the third-youngest of nine children of working-class parents in south Omaha. Their mother was a homemaker, their father a postal carrier who worked part-time jobs as school janitor and bartender to pay the bills.
All four grandparents had emigrated from Croatia. South Omaha in those days was an enclave of Czechs, Poles and Croats.
The service on Saturday at St. Peter's Basilica included the incoming cardinals being called one by one to receive a cardinal's hat and ring. Then, each man greeted every cardinal, a process that took more than an hour and a half.
On Sunday, the group attended Mass at St. Peter's Square, which Kathy described as "very cool."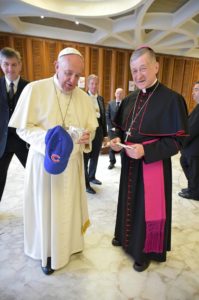 How is her brother taking all the attention?
"He's humbled" and knows "he's the same person as before he got this appointment," she said.
"He was honored. This doesn't go to his head. We are very simple people. We were brought up poor, and don't expect anything.
"Who'd ever think this kid from south Omaha would be a cardinal someday?"
Asked what her brother brings the church from his family life, Kathy didn't hesitate. Simplicity and humility, she said.
"We weren't raised with the best, four boys shared one room. We were all crammed in there. Being from a big family – there were 11 in my dad's family — you see how life is and what people go through.
"I'm divorced, I remarried after an annulment, and was the first in my family to do so. My younger sister divorced and remarried.
"He understands what families go through, the up and down in life. He's in touch with people, our family life, nieces and nephews, you see the things your family goes through. He never judges you. We were brought up to never judge."