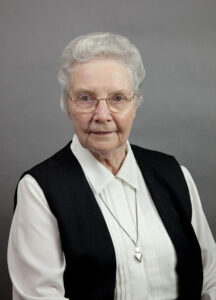 Sister Clara Ternes, ASC, a former hospital executive who taught medical ethics, died Sunday, Nov. 27, 2016, at the Ruma (Ill.) Center. She was 88 years old and had been an Adorer of the Blood of Christ for 72 years.
Born April 28, 1928, in Wichita, Kan., she was one of seven children of Martin and Clara (Girrens) Ternes. She made her first profession on July 1, 1944, and her final vows on July 1, 1949.
Sr. Clara earned her degree in nursing from St. John's Hospital School of Nursing, Springfield, Ill., in 1949 and certification as a registered nurse anesthetist from St. Francis Hospital, Peoria, Ill., in 1952. She earned a bachelor's in theology with an emphasis on medical ethics from Saint Louis University in 1974, and her master's in theology from Catholic Theological Union, Chicago, in 1976. Her thesis became the textbook, Medicine, Morals, and the Nurse.
She did pastoral care for nine years at St. Elizabeth Hospital, Belleville, Ill.; St. Clement (now Red Bud Regional) Hospital and Maria Care Nursing Home, both in Red Bud, Ill.; and Clementine Hall in Ruma, Ill.
She worked seven years as a nurse at St. Vincent (now Taylorville Memorial) Hospital in Taylorville, Ill., and as a nurse anesthetist for 14 years at St. Vincent and at St. Joseph Memorial Hospital in Murphysboro, Ill.
She did a fellowship in medical ethics at the Institute of Religion, Texas Medical Center in Houston, in 1976-77, and later taught nursing ethics at the Institute for several years, giving talks, creating and teaching courses, and publishing articles in medical magazines. She also taught at Texas Woman's University in Houston.
While working full time, she also volunteered 3,500 hours of service in religious ministry and patient activities at the Houston Veterans Administration Medical Center, which honored her for her service.
She directed ASC Health Ministries while earning certification at SLU's hospital executive development program. She also served on boards and committees, sometimes as chair.
Sr. Clara's last ministry was as vice president of mission, values, and ethics for nearly two decades for the Southern Illinois Health System in Carbondale. She believed that nurses had a moral responsibility to assert themselves in ethical dilemmas. Since nurses care for patients 24 hours a day, "they are able to ascertain what the patient's desires are and should play a role in making the final decision, along with the doctor, patient, family, and chaplain," she said. The medical ethics courses she presented were designed "to give nurses a framework with which they can make ethical decisions."
Sr. Clara retired to the Ruma Center in 2013.
She is survived by nieces, nephews, and members of the ASC community.
She was preceded in death by her parents; her sisters Helen (Myron) Wiltfong, Clara (Thomas) Ostrander, Mary Goodrum, and Juanita (Richard) Hattrup; brothers John (Judy) Ternes and Martin (Tharan) Ternes.