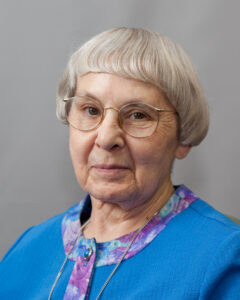 Sister Elizabeth Ann Schmidt, ASC, died Tuesday, Nov. 22, 2016 at the Wichita Center. She was 85 and had lived 69 years as an Adorer of the Blood of Christ.
She was born Feb. 19, 1931, the fifth of 10 children of Marcus and Mary (Suppes) Schmidt, and grew up on the family farm outside of Spearville, Kan.
Influenced by her teachers, the Adorers, at St. John the Baptist elementary school, she entered the ASC community in 1945, at age 14. She pronounced first vows July 1, 1947.
A last-minute assignment to substitute teach for an ailing sister caused her to put her own high school education on hold. Another sister tutored her and she graduated from Sacred Heart Academy in 1950. She professed final vows on July 1, 1952.
She graduated in 1960 from Sacred Heart College in Wichita with a bachelor's degree in education. In 1969, she completed a master's degree in teaching from what was then Webster College in St. Louis. She earned a   master's degree in learning disabilities in 1988 from Northern Colorado University, Greeley, Colo.
Sister Elizabeth Ann had a long history of ministry in eight states, serving as teacher, tutor, pastoral minister, coordinator of learning disabled students, director of summer religion camps among other jobs in Kansas, Nebraska, Oklahoma, Michigan, Missouri, Colorado, New Mexico, and Texas.
She retired to the Wichita Center in 2006 and moved into Caritas Center in May, 2014.
Preceding her in death were her parents, her brothers John, Richard, Leroy, Arnold, and her sisters Alice, Evelyn, and Delphine, ASC. She is survived by her brother Joe, her sister Marjorie, many nieces and nephews, and her ASC community members.