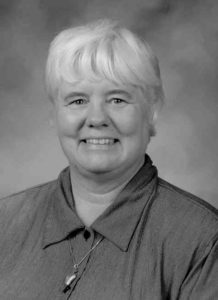 By Sister Janis Yaekel, ASC
I am Sister Janis Yaekel, ASC and I have pancreatic cancer. In fact, I have lived with cancer since 2012. I hope to share in my blog my journey and my reflections on the presence of God in my life. It is my hope that those who read my entries will find strength for their own journeys.
---
Sometimes on the journey with cancer, life throws you a curve from an unexpected place.
In late November, I had an MRI and CT scan and have learned from my doctor that all was stable. The tumor had not changed nor had it spread to any other organ. Good news and much celebration followed.
However, the day after the office visit that always includes a series of blood tests, the nurse called to say that one of the tests indicated a tumor marker was elevated.
I have never had an elevated tumor marker, which is used to check the growth of the tumor. My tumor marker score has always been around 10. The high end of normal is 35. This time, the marker was 158. So, once again I am a little stressed.
I will have more blood tests this week to see if this new number is just a fluke and I, of course, am praying for the fluke. Another test will check for mutant cancer cells in the blood. Results for the tumor marker test take about two days; for the mutant test more than a week.
While I wait, I am enjoying the beginning of winter and the Advent season, the time of waiting for the Savior, for the Christ child. Somehow, waiting for test results fits right in.
The trick, it seems to me, is to make the waiting hope-filled, not dread-filled.
Advent waiting is about being present to the darkness so that you don't miss the light when it begins to shine.
For me, that light may come in the form of good news, that the tumor marker was a fluke, or some clearer indications of what is going on in my body.
I have always said that knowing the bad news is better than just worrying that bad news might be coming, and so I wait in expectation of the light, however small it might be, so that I might meet God in the middle of my cancer darkness.
These days are very cold, and the birds' busyness at the feeder shows it.
My aunt used to say that she always knew when very cold or snowy weather was coming because the birds became so much more active.
Gracie, of course, loves all the activity. She also loves the Christmas tree, but that is a story for another time.
---