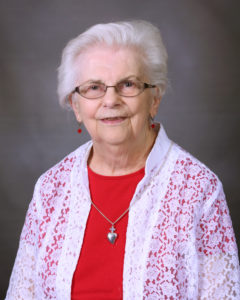 By Sister Regina Siegfried, ASC
My parish, St. Vincent De Paul in St. Louis, began Wednesday evening vigils on our church steps to pray for the people and situation at the Border.  The half-hour of a short reflection followed by prayer provides time and space to call the people at the border into our hearts.
Last week, as parishioners gathered, one of our street residents, with dirty clothes in shreds, shambled up the steps and went through the church doors, carrying a plastic food container.
One of the other parishioners and I followed him into the church to see if he needed anything. He quietly placed the container on the offertory table in back of the church, declined to talk to us, and left. Greg and I opened the container to discover cooked sweet potatoes. As odd as I thought that was, I was more concerned about finding the person to see if he would like some different clothes from our stash in the basement. He and his tattered attire were shuffling across the parking lot by the time we went outside, so I missed him.
As we sat on the church steps in quiet prayer communion, listening to Interstate 55 rumble, roar, and speed by just short yards away from the building, I contemplated an offering of sweet potatoes.
That marble-topped small table, usually reserved for the bread and wine, now had a container of sweet potatoes, his unusual gift to the church. Like the Gospel parable of the widow's offering, perhaps he too gave all he really had, even if it were sweet potatoes instead of money or bread or wine.
God, not I, receives and judges the value, worth, and preciousness of the gift. Similar to the people gathered on the steps silently offering prayers for our brothers and sisters at the Border, this resident of our city streets wordlessly left his sweet potatoes, his prayer for the evening.
We'll return week after week to pray for the Border, for the people killed in El Paso and Dayton, for grieving families, and for the street people who grace our parish with the presence of God in our midst.