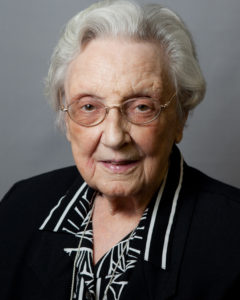 Sister Mary Thomasine Stoecklein, a lifelong educator and professed Adorer of the Blood of Christ for 78 years, died Wednesday, September 4, 2019, at the community's Wichita Center. She was 96.
Sister Mary Thomasine was the second of eight children and spent her childhood on the family farm. She was baptized Edna Mae at St. John the Baptist, a rural parish near Bazine, Kansas. One of her siblings also joined the ASC community as Sister Joyce Stoecklein.
Mary Thomasine entered the Adorers of the Blood of Christ in August 1939, professing first vows on August 10, 1941, and final vows five years later. She celebrated her 75th anniversary on May 8, 2016.
Sister Mary Thomasine earned a bachelor's degree in education administration from Mount St. Scholastica College in Atchison, Kansas and in 1960, a master's in education from Saint Louis University. She also attended summer classes at the Universities of Illinois, Minnesota, and Connecticut.
She taught college education classes for 25 years at Newman University in Wichita, where she was an associate professor of education and Education Department chair. Prior to Newman, she spent 15 years as an elementary teacher and/or principal and three years as a high school math teacher.
She was honored in 1991 as a Professor Emeritus of Kansas. In 1994, she received the De Mattias Alumni Award from Newman University. In 2008, she was the first recipient of the University's Spirit Award, which continues in her name.
She played volleyball and basketball in college, and continued her love of competitive sports, sitting in on Newman basketball games right behind the coach and team.
She later worked at the Acuto Center for retreats and counseling services at the Wichita Center, as administrator of the Wichita Provincial House, and 18 years in Newman University's Office of the Registrar.
A wake service was held at 7 p.m. on Friday, September 6 followed by a funeral Mass on Saturday, September 7, 2019, both at the Wichita Center. She was buried at the Center's community cemetery.