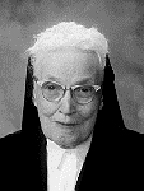 Sister Emiliana Herman died Feb. 4, 2015. She was 96 and spent 69 years as a professed Adorer of the Blood of Christ.
She was born July 3, 1918, to John and Mary (Wille) Herman, and was baptized Margaret Mary in St. Martin's Church, Piqua, Kansas.
Sister Emiliana was the oldest child in a farming family and began helping her father in the fields after her 8th-grade graduation. For the next several years, she worked at two hospitals in various capacities and was a housekeeper for her Reverend Uncle Anthony.  Then, at age 25, Emiliana joined the Adorers of the Blood of Christ, following in the footsteps of three biological sisters, an aunt, and a cousin who were already members. She pronounced her first vows in 1945, followed by her permanent vows in 1950.
Sister Emiliana utilized and enhanced her talents and skills over her many years of service in Kansas, New Mexico, and Oklahoma. She was certified as a Food Service Supervisor (Fontbonne College, St. Louis, MO). She retired from St. Mary's Hospital in Enid, OK, and became a resident in Caritas Center in 2011.
In all her tasks, Sr. Emiliana was confident God had called her to these daily commitments. She said that it was important to her to accept every person for who that one was and not what she thought the person should be.
Preceding her in death were her parents, her brothers Bill and Anthony, her sisters Mary, ASC, Joan, ASC, Helen, ASC, Nicolette, ASC, Martha, and Madeleine.
She is survived by her brothers John and Aloysius, nieces and nephews, and her ASC community members.
Sister Emiliana's body will rest in the Adorers' community cemetery.