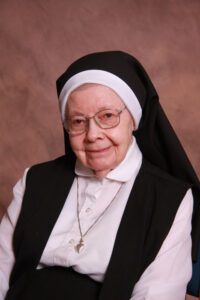 Sister Mary Jerome Goeckner, ASC, died Tuesday, Nov. 17, 2015, at the Ruma Center, Ruma, Ill. She was 102 years old and had been a professed member of the Adorers of the Blood of Christ for 85 years.
Elizabeth Theresia Goeckner, born Dec. 3, 1912, in Bishop Creek (near Effingham), Ill., was the oldest of nine children born to William and Rosa (Probst) Goeckner, and one of six daughters in the family to join the Adorers of the Blood of Christ. She made her first profession on July 2, 1930, and her final vows on July 1, 1935.
Sr. M. Jerome had her own plans for religious life but at her superior's request, studied to become a nurse at St. Vincent (now Taylorville) Memorial Hospital in Taylorville, Ill., where she would serve for 20-plus years.
She ministered there as a nurse and a nurse supervisor, and as a hospital administrator at both the old and new hospital, completed in 1954, which she helped plan.
It was the first of three ASC-sponsored hospitals in the former Ruma Province where she would serve as administrator and help build new facilities.
The others were St. Joseph Memorial Hospital (formerly St. Andrew's) in Murphysboro, Ill., and St. Clement (now Red Bud Regional) Hospital in Red Bud, Ill.
She later served as charge nurse for the care of older sisters at Clementine Residence in Red Bud, and a nurse at St. Ann Home in Chester, Ill.
She was a member of the American College of Hospital Administrators and was elected to the National Register of Prominent Americans.
She worked 10 years at the Ruma Center as treasurer, nurse, and prayer group leader, before retiring. She did needlework and quilting even after her 100th birthday.
Sr. M. Jerome is survived by her siblings, Sr. Laura Goeckner, ASC and Sr. Emma Goeckner, ASC; one cousin, Sr. Jacinta Willenborg, ASC; many nieces, nephews, and sister Adorers throughout the U.S. Region.
She was preceded in death by her parents; her step-mothers, Clara Willenborg and Elizabeth Koester; stepsister Virginia Koester; brothers William, Alphonse, and Norbert (Eleanor) Goeckner; and three sisters, all members of the ASC community, Sr. Mary William, Sr. Martha and Sr. Adella Goeckner.