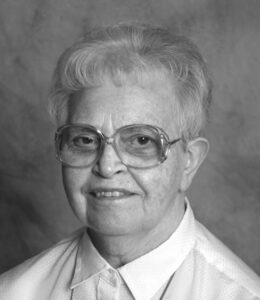 Sister Rose Schrage, ASC, died Saturday, Nov. 14, 2015, at the Ruma Center, Ruma, Ill. She was 86 years old and had been a professed member of the Adorers of the Blood of Christ for 67 years.
 Sister Rose was born on Dec. 31, 1928, in St. Rose, Ill., one of eight children born to the late Bernard and Mary (Goestenkors) Schrage.
She made her first profession on July 1, 1948, and her final vows on July 1, 1953.
Sr. Rose ministered almost 30 years as an elementary teacher, or in some cases, as both teacher and principal. In Illinois, she served at Saints Peter and Paul in Waterloo (1949-52), St. Elizabeth in East St. Louis (1952-54; 1961-63), St. Bruno in Pinckneyville (1954-55; 1977-79), Holy Family in Cahokia (1955-57), St. Boniface in Evansville (1957-58; 1968-70), St. Joseph in Olney (1958-59), and St. Matthew in Alton (1967-68; 1970-77). In Missouri, she taught at St. Jerome in St. Louis (1959-61) and at Visitation in Vienna (1963-66).
She also served as a houseparent at the Catholic Children's Home in Alton, Ill., (1979-81). At DeMattias Hall, the Adorers' House of Studies in St. Louis, Sr. Rose served briefly as the assistant to the executive housekeeper, then held that position herself for many years; she also became the assistant administrator at DeMattias during her final years there.
For the final 11 years of her active ministry, Sr. Rose served as housekeeping and laundry supervisor at Nazareth Living Center in St. Louis.
Sister Rose earned a bachelor's degree in history and a master's in American history, both from Saint Louis University.
After Vatican Council II in the early 1960s, Sr. Rose led discussions on religious life in Jefferson City, Mo.
When she retired from active ministry, she helped with laundry and ironing at the Ruma Center and enjoyed reading, walking, crocheting, and a good cup of coffee and conversation.
Sister Rose is survived by her brother James (Sandy), nieces, nephews, and members of the Adorers of the Blood of Christ.
She was preceded in death by her parents, her brothers Ferdinand, Oscar, Edgar, Bernard, Jr., and Cletus, her sister Marie, and sisters-in-law Ruth, Catherine, and Theresa.
She is bured in the Ruma Center cemetery.