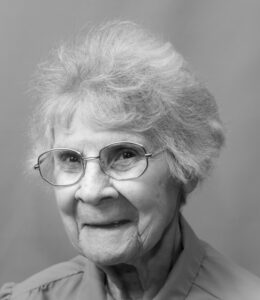 Sister Bernetta Sigg, an Adorer of the Blood of Christ for 80 years, died Wednesday, Nov. 25, 2015. She was 99.
She was born Aug. 21, l916 in Ost, Kan, to George and Elizabeth (Seidl) Sigg, one of eight children, and baptized Sybilla. When she was a child, her family, with several other families of the Ost, St. Mary's, and St. Mark's, Kan., area, moved to Roggen, Colo., where they laid the groundwork for a parish church and school. Her parents helped displaced and migrant families.
She attended Loretto Heights in Denver for a year and worked at a ranch for two years before joining the Adorers at age 17 in Wichita, Kan., in September 1933. She professed her first vows on Aug. 7, 1935, and final vows on Aug.10, 1940.
She graduated high school at St. John's Academy in Wichita, Kan.,  in 1937 and took summer courses at Sacred Heart College (now Newman University), Friends University, and Oklahoma State University. In 1948, she earned a bachelor's degree in English from Mt. St. Scholastica College in Atchison, Kan., and in 1954, a master's degree in English from Creighton University in Omaha.
She spent 35 years in the classroom, teaching grades three to 12, and sometimes serving as principal, in Okarche and Canute, Okla., and in Marienthal, Ellinwood, Spearville, Caldwell, Wichita, and Pilsen, Kan. She taught English at Sacred Heart College for more than 15 years and wrote poetry, especially haikus.
She also was communications assistant for the Adorers' former Wichita Province.
Preceding her in death were her parents, her brothers Conrad, Ernest, Joseph, and Gerald, and her sisters Marie and Angeline, also an Adorer of the Blood of Christ. She is survived by her sister Susan, nieces and nephews, and fellow Adorers.