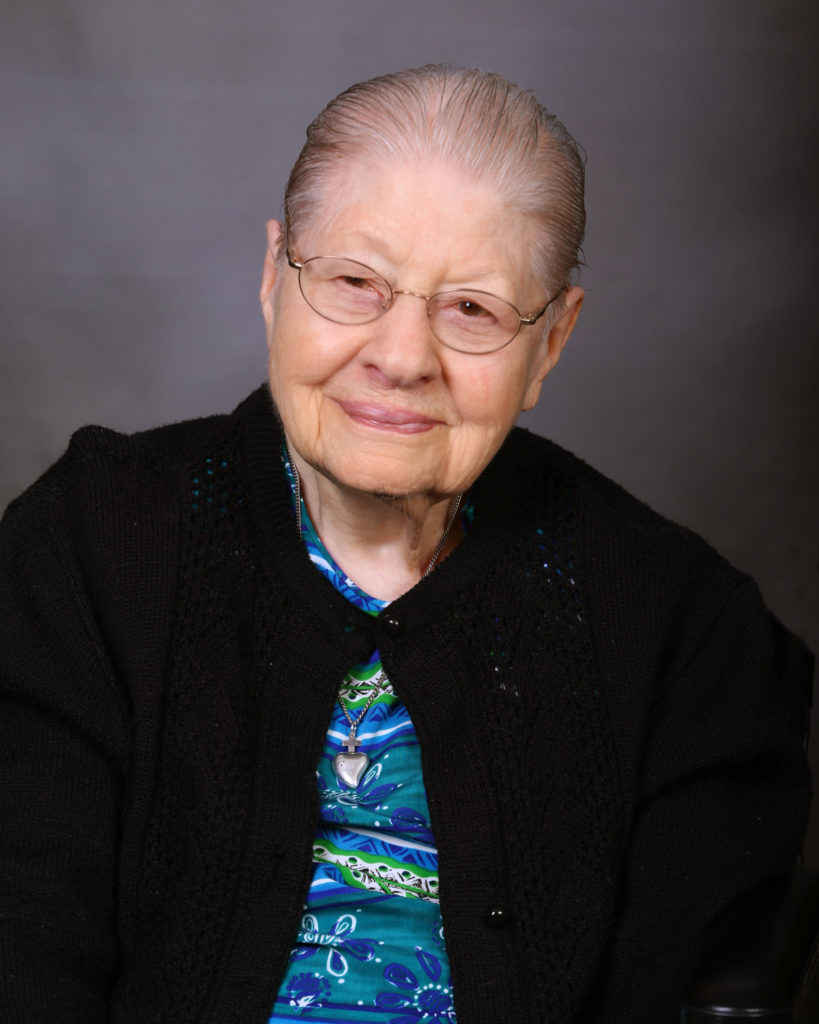 Sister Bernice Taylor, ASC, a teacher who saw the humor in life and loved to tell stories, died Tuesday, March 10. She was 100 years old and had lived 78 years as a professed Adorer of the Blood of Christ.
She was born December 25, 1919 to Frank and Mary Anna (Kotrba) Taylor, a farm couple in Canute, Oklahoma, and was baptized Angeline Marie the next day at St. Francis Church. She was bilingual and proud of her Czech heritage.
Early thoughts of entering the convent after eighth grade were shelved when older siblings, Leonard and Regina, encouraged her to give such an important decision a little time.
She developed diphtheria as a high school sophomore, and was prescribed whisky tonics when a blizzard kept the doctor from seeing her. She was her family's cow herder in the summer and her mother's helper year-round.
She and her family socialized with neighbors on Sunday evenings with music, dancing, and storytelling, likely where she developed her skill at telling a yarn.
"I think she was a storyteller, but she enjoyed and laughed so much during her stories I often lost the story line," U.S. Regional Leader Sister Vicki Bergkamp, ASC said.
"To see the humor in life, to share it with others through stories, and to enjoy your own stories, what a great example of grace she gave to us."

Sister Vicki Bergkamp
For three years after high school, Bernice did housekeeping, cooking, and child care before traveling to Wichita with her family and pastor to meet the Adorers.
She became a postulant in September 1940, pronounced first vows in August 1942, and final vows five years later.
Bernice began her long teaching career in 1943 in Colwich, Kansas. She attended college classes in the summers for her first degree, a bachelor's in education from Saint Mary College in Leavenworth, Kansas, in 1953, then earned a master's in education from Saint Louis University in 1959. She spent the next 50 years as an elementary school teacher, principal, assistant professor in the graduate student teaching program at Newman College, now Newman University, and as a volunteer at Newman library.
She taught more than 25 years in Kansas and Oklahoma elementary schools. She assisted in Newman University's education department for seven years and helped the library transition to the Library of Congress classification system.
She moved to the Wichita Center in 2000 and was a vibrant community member living mission in daily life.
She was preceded in death by her parents and two siblings, and is survived by nieces and nephews, and her ASC community.
She is buried in the community cemetery.