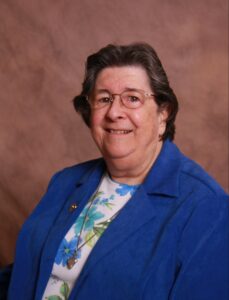 Sister Antoinette "Toni" Cusimano, an Adorer of the Blood of Christ, died Tuesday, July 21, 2015 at the community's center in Ruma, Ill., of complications from a stroke. She had been an Adorer for all but 20 of her 79 years.
The Chicago native, born to immigrants from Sicily, was a teacher, missionary, pastoral minister and healer.
She called her 15 years in Liberia "the happiest and most fulfilling years of my life." But the end of her time there in 1990, as the civil war heated up, were dangerous. She told the story of being stopped by the militia in Liberia and told to give soldiers a ride. She told them she did not allow guns in her car and that they would have to put them in the trunk. They did.
Sr. Antoinette, the first of two children born to Vito and Rose (Modica) Cusimano, earned a bachelor's degree in elementary education from Saint Louis University in 1968 and a master's degree in education from Southeast Missouri State University.
She later was certified as a practitioner of the ancient art of healing touch, a therapy that promotes healing by balancing and aligning the human energy field through hands-on techniques.
She taught elementary school in Illinois: St. Andrew in Murphysboro, Immaculate Conception in Centreville, Sacred Heart in Dupo, St. Joseph in Olney, St. Clare in O'Fallon, St. Theresa of Avila in Salem and St. Augustine in Belleville, and at Holy Rosary in Fort Dodge, Iowa, and Visitation in Vienna, Mo.
She was a missionary in Liberia for 15 years, working in the school and parish in Gardnersville, and doing evangelization, catechesis, pastoral ministry, and adult leadership training in the village of Klay.
After coming home, Sr. Antoinette served as a pastoral associate for three years at St. Joseph Parish in Springfield, Ill., and worked four years at a shelter for abused women in Tucson, Ariz. For five years, she provided home care with an agency run by the Sisters of St. Joseph of Carondelet in St. Louis.
Sr. Antoinette is survived by her sister-in-law Pamela (Van) Korbitt, aunts, uncles, nieces, nephews, and members of the ASC community.
She was preceded in death by her parents, her brother Frank, aunts, and uncles.
She is buried at Ruma community cemetery.