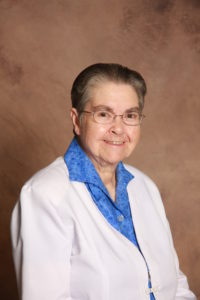 Sister Dorothy Marie (Mary Cordelia) Dietz, an Adorer of the Blood of Christ for 59 years, died Sunday, Aug. 14, 2016, at the Ruma Center in Ruma, Ill. She was 79.
She was born Aug. 22, 1936, in Waterloo, Ill., one of five children of Conrad and Lucille (Fleming) Dietz. She made her first vows on July 1, 1957, and her final vows on July 1, 1962.
Sister Dorothy Marie was engaged in a variety of service-oriented ministries, including housekeeping, cooking, sewing, chauffeuring, maintenance, and home visiting. She served primarily in large houses or institutions, including Cantian Seminary and De Mattias Hall in St. Louis; St. Teresa Academy in East St. Louis, Ill.; the Loretto Home in Alton, Ill.; St. Joseph Hospital Convent in Murphysboro, Ill.; Clementine Residence in Red Bud, Ill.; and the Ruma Center in Ruma, Ill. She also served in Adorer communities in Dalgren, Ill., and the Bethany House of Prayer, adjacent to the Ruma Center.
She was a home visitor with Community Care Services, Inc., a division of Hospice of Southern Illinois for more than 30 years. She received its prestigious Butterfly Award three times, in 1996, 2008, and 2012. According to Hospice News (Spring, 1996), "award recipients are highly respected by HSI staff as those who give of themselves to offer a special kind of caring to the patients and families they serve, and to the staff they support."
During the historic Flood of 1993, she helped finish FEMA trailers with skirting at the bottom and was recognized for that work with a certificate of appreciation by the Monroe County Board of Commissioners.
Sr. Dorothy Marie was preceded in death by her parents, her brother Joseph, her sister-in-law Joann Dietz, her brother-in-law Robert Toal and her nephew Karl Reinhold.
She is survived by her sisters Mary Toal and Margaret Reinhold, her brother Don, her sister-in-law Diane, the many families she helped in her ministry with Hospice of Southern Illinois, and members of the U.S. Region of Adorers.