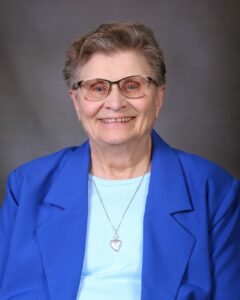 70 years as a vowed member of the Adorers of the Blood of Christ
Sister Sophia made her first profession on July 1, 1950 and her final vows on July 1, 1955.
Sister Sophia was born in Topeka, Kansas, to Michael and Pauline Kammer. She earned a bachelor's degree in education from Sacred Heart College, now Newman University, in Wichita in 1960, and a master's degree, also in education, from Kansas State Teachers College in Emporia, Kansas, in 1969. She received a certificate in the Corporate Ministry Program at Saint Louis University in 1983.
Sister Sophia was an elementary educator for almost 25 years, primarily at schools in Kansas. In Wichita, she ministered at All Saints, Christ the King, St. Margaret Mary, St. Jude and St. Elizabeth Ann Seton. Other parishes in Kansas were St. Joseph in Andale, St. Joseph in McPherson, St. Joseph in Conway Springs, St. Paul in Angelus, St. Nicholas in Kinsley, St. Ann in Olmitz and St. James in Augusta. She also taught at St. Matthew in Elk City, Oklahoma. In some schools, she served as principal and teacher. Sister Sophia also taught at Central Business College in Wichita for two years. She served as assistant, then registrar at Newman University for several years, and volunteered at the Newman alumni office.
She served her community as business office manager of the Wichita Center and later in St. Louis. She also lived as a member of the Hearts Journey House and for the past 10 years, has assisted with the Associate Program. Sister Sophia resides at the Wichita Center.