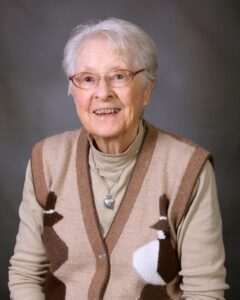 70 years as a vowed member of the Adorers of the Blood of Christ
She made her first profession on July 1, 1950 and her final vows on July 1, 1955.
Sister Anne was born in Chester, Illinois, to Andrew and Mary Catherine (Washichek) Irose. She earned a bachelor's degree in music from Fontbonne University in St. Louis in 1956. She received a master's in music education from the University of Illinois in Champaign-Urbana, in 1960, and a master's in theology from St. Mary University in San Antonio, Texas, in 1970.
Sister Anne taught at Holy Family in Cahokia, St. Mary in Taylorville, St. Rose in St. Rose and Saints Peter and Paul in Waterloo, all in Illinois. She also taught music and played the organ for liturgies.
For the next 40-plus years, Sister Anne served as a missionary, first in Puerto Rico, then in Bolivia. In Rio Piedras, Puerto Rico, she taught both English and religion and served as a catechist. She held a position in the pastoral office for religious for the Diocese of San Juan.
Sister Anne served in Bolivia for more than 30 years. She established ecclesial communities in the parish of Nuestra Senora de Fatima in La Paz, and later among the Aymaran community in the Diocese of El Alto. After returning to La Paz, she set up base Christian communities and assisted with the formation of young Bolivian women for the sisterhood of the Adorers. For several years, she served as Vicar for Religious, working with base ecclesial communities and continuing her work in the ASC Formation program in Bolivia. Her final ministry as a missionary was as Coordinator of the Bolivian Foundation.
Since 2008, Sister Anne has been Living Mission in Later Life at the Ruma Center where she volunteers for a variety of ministries in the house.