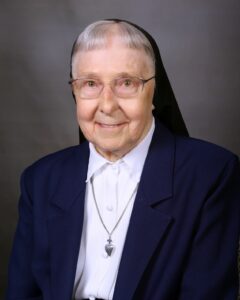 75 years as a vowed member of the Adorers of the Blood of Christ
Sister Noella made her first profession on July 1, 1945 and her final vows on July 1, 1950.
Sister Noella was born in Hutchinson, Kansas, to John and Grace Blick. She earned a bachelor's degree in education from Sacred Heart College, now Newman University, in 1954, and a master's degree from the University of Saint Mary in Leavenworth, Kansas, also in education, in 1960.
She taught intermediate grades in several Kansas schools, including St. Peter Claver and All Saints schools in Wichita and St. John in Spearville. For almost 50 years, she was the principal and teacher of the upper grades at St. Joseph in Andale, St. John in Spearville, St. Nicholas in Kinsley and, for more than 20 years, at St. Joseph in Ellinwood, all in Kansas.
After she moved to the Wichita Center, Sister Noella worked part-time in the community archives for many years. She still resides at the Center where she is Living Mission in Later Life.