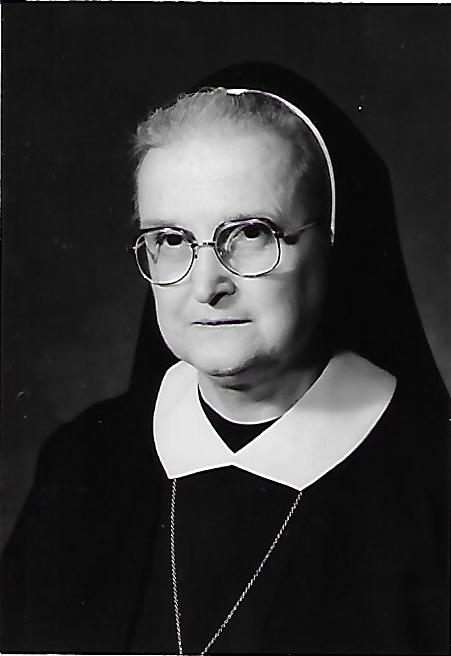 Sister Mary Germaine Jakovcic was born on July 24, 1914 in Johnstown, Pennsylvania to immigrant parents. She was one of 16 children and the oldest of the 10 children who survived infancy.
As part of such a large family, she was attracted to the idea of community. She attended school through eighth grade at the Adorers-staffed St. Rochus School. With the permission and blessing of her parents, she entered the aspirancy at St. Joseph Convent in Columbia, Pennsylvania.
Long-time Teacher
Sister Mary Germaine Jakovcic taught school for 52 years with seemingly never-ending energy. Among the places she served was St. Joseph Academy, within the structure of the motherhouse. She taught and served as principal and dorm moderator for 11 years, and the Academy flourished.
Mary Germaine became provincial treasurer in 1959 at a time when the province had a large debt from building the motherhouse. She also served as local coordinator at the same time.
Sister Mary Germaine Jakovcic was able to keep a calm and quiet presence as she helped remind the Sisters that Saint Joseph was really taking care of the community and things would work out in time.
With her firm belief that all would be well through prayer, she was able to improve the province's financial status.
Health Problems
With all the quiet energy and zeal that Germaine brought to her ministries, one would never have known that she suffered very poor vision and pain for many years, due to a diseased cornea. Doctors tried to replace the cornea three times but each time, her body rejected it, causing her great pain.
Sister Mary Germaine Jakovcic also suffered a heart condition and breathing problems in her last 10 years of life. She did not dwell on her illnesses, but instead took them to prayer. She often prayed that she would be able to keep her vision and abilities so that she could continue to participate in community and reach out to others.
Admired by Sisters
Germaine's love and gift for community, balanced with a strong prayer life, helped her take risks and win the admiration of her sisters.
If we all had her great constant trust in God, what would our next 150 years look like?