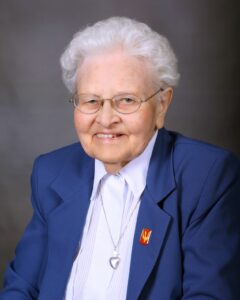 Sister Mary Ann Bahr, ASC died on December 14, 2020, in the Caritas Center, in Wichita, Kansas. She was 95 years old and had been a professed member of the Adorers of the Blood of Christ for 76 years.
Sister Mary Ann was born on February 4, 1925, on the family farm near Olmitz, Kansas, the second of 11 children of Henry and Frances (Schneider) Bahr.
She knew by age 6 that she wanted to enter religious life. She made first profession on July 1, 1944 and final vows on July 1, 1949.
Sister Mary Ann Bahr received a bachelor's degree in education in 1957 from University of Saint Mary in Leavenworth, Kansas, and a master's degree in education from Central State University in Edmond, Oklahoma in 1968.
But she began teaching before that, in August of 1944, when she was assigned to teach the first four grades at St. James School in Augusta, Kansas.
Sister Mary Ann Bahr also taught in Sterling (Our Lady of Perpetual Help), Medford (St. Mary's), Canute (Holy Family), Elk City (St. Joseph), Oklahoma City (St. Eugene), and Stillwater (St. Francis Xavier) in Oklahoma; and Offerle and Kinsley, Kansas (St. Mary's, St. Nicholas) and Christ the King, St. Anne, St. Jude, St. Margaret Mary and All Saints in Wichita, Kansas.
After 48 years in the classroom, she semi-retired in 1992 and began working as secretary of the new Department of Graduate Studies at Kansas Newman College.
She volunteered in the teacher placement office and kept historical records for the Wichita Center. In 2011, she began Living Mission in Later Life, spending more time in prayer and doing embroidery work. She moved to Caritas Center in 2013.
Sister Mary Ann Bahr is remembered for her cheerful presence, calm demeanor and loving smile. She loved helping children learn and succeed, and kept every one of her pupils' names in her desk drawer.
She was preceded in death by her parents, her sister Frances and her brother, Father Joseph. She is survived by her brothers Henry Jr. and James and her sisters, Sisters Francella, ASC and Jeannine, ASC; Joan (Kenneth); Donna (Eldon); Sister Teresa, ASC; and Patricia; her cousin Sister Philomena, ASC and numerous nieces and nephews.