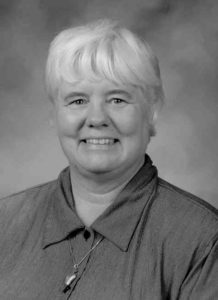 Sister Janis Yaekel, ASC, died May 12, 2018 at the Ruma Center.
She was 66 years old and had been a professed Adorer of the Blood of Christ for 37 years.
Sister Janis was born Aug. 2, 1951, in Belleville, Illinois, the only daughter and youngest of four children of the late James and Paula (Platzkoester) Yaekel. Sister Janis made her first profession on June 1, 1980, and her final vows on Aug. 14, 1983.
She earned a bachelor's degree in social studies from the former Notre Dame College in St. Louis in 1973, and a master's degree in religious education at St. Meinrad (Indiana) School of Theology in 1980.
Sister Janis taught at St. John the Baptist Grade School in Smithton, Illinois, and at St. Stephen's Grade School in Caseyville, Illinois, in the 1970s, and at Gibault Catholic High School in Waterloo, Illinois, in the early 1980s. She was pastoral associate at St. Joseph the Worker parish in Ozark, Missouri, from 1983 to '87. She did spiritual direction and coordinated retreats at Center of Peace Retreat Center at Ruma in the late 1980s, and would later join the ministry team at King's House Retreat and Renewal Center in Belleville, leading both guided and individual retreats and offering spiritual direction for 10 years.
She wrote books and articles on the liturgy and spirituality.
But perhaps her favorite work was the eight years she was director and chief executive officer of Earthworks, Inc., a sustainable farm and education center in Plymouth, Indiana, a ministry of the Poor Handmaids of Jesus Christ. She oversaw a 3-acre organic garden, cared for livestock, raised funds, did public speaking and community education, offered retreats on Earth spirituality, and more.
For Sister Janis, creation and nature were her portals to the Divine.
"It's what keeps me going," she said in her final weeks of life. "I wake up, open the window. I see the birds and the squirrels. I can't imagine knowing God without knowing creation. I guess there are people who can. I can't."
She also loved sports, politics, and writing. Diagnosed with pancreatic cancer in 2012, she wrote about her cancer journey for the last three years for the Adorers' website, in an attempt to help others in their own sufferings. She was featured for those efforts in a Feb. 16, 2016 news story on KPLR-TV in St. Louis.
"God weaves into the fabric of each life grace for the journey of that moment, of that particular day," she said. "There are, however, unexpected twists and turns of life that provide us with unique portals to the Divine. These are the events of life that may leave us bruised and battered, grieving and suffering or they may be occasions of tremendous beauty and joy that are almost overwhelming."
Sister Janis is survived by her siblings: Jim (Rosie), Jerry (Eve), and Jack (Kathleen), numerous nieces and nephews, friends, and the Adorers of the Blood of Christ.
She was preceded in death by her parents.
She is buried at the Ruma Center Cemetery.
———