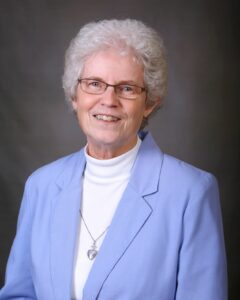 50 years as a vowed member of the Adorers of the Blood of Christ
Sister Jane Gegg, ASC made her first profession on October 11, 1970 and her final vows on August 15, 1976.
Sister Jane was born in New Offenburg, Missouri, to Edgar and Lorena (Flieg) Gegg. She earned a bachelor's degree in psychology in 1972 from Saint Louis University and a master's degree in early childhood/special education in 1984 from the University of Missouri in St. Louis.
Sister Jane's ministry in education includes early childhood, preschool, kindergarten, primary grades and special education. She taught for almost 10 years in Missouri at St. Augustine in Kelso and St. Joseph in Zell. Most of her classroom teaching has been in Illinois at St. Joseph in Prairie du Rocher, St. Cecilia in Bartelso, Saints Peter and Paul in Waterloo, Sister Thea Bowman in East St. Louis, St. Bruno in Pinckneyville and Holy Rosary in Fairmont City.
For the last 10 years, Sister Jane has worked with immigrant children learning English as a second language. She ministers through the English Tutoring Project in St. Louis.
She lives in St. Louis and continues this ministry today.