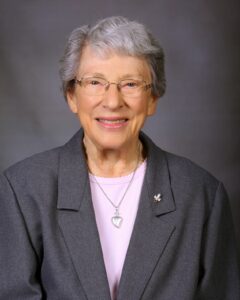 Sister Imelda Rose Hammeke, ASC, an Adorer of the Blood of Christ for 71 years, died Saturday, February 6, 2021, at the Wichita Center, in Wichita, Kansas. She was 90 years old.
Sister Imelda Rose was born January 15, 1931, to John and Mary (Schartz) Hammeke outside of Ellinwood, Kansas. She was one of six children.
She came to know the Adorers by attending their girls boarding school in Wichita. She entered the novitiate in the summer of 1948, made her first profession the following year, and made final vows in July 1954.
Sister Imelda Rose earned a bachelor's degree in elementary education in 1960, taking courses in the summer while she taught during the school year. She taught primary or intermediate grades at St. Peter Claver in Wichita, St. Peter and Paul in Kinsley, Sacred Heart in Ness City, St. Patrick in Plains, and Sacred Heart in Colwich, Kansas, and Sacred Heart School in Alva, Oklahoma.
She later taught at St. Aloysius in Greenbush, Holy Name in Bushton, the public school in Andale, St. Joseph in Ellinwood, St. Anne in Wichita, all in Kansas, and St. Helena in Hobbs, New Mexico.
Sister Imelda Rose earned a master's degree in Teaching Religious Studies from Webster College, in St. Louis in 1968, and later pursued certification in Natural Therapeutics in 1989 in New Mexico. She also earned a license in practical nursing from the Wichita Vocational Technical School in 1991. Throughout the 1990s, she ministered as a health care staff nurse at the Wichita Center; in the late 1990s, she transported sisters to doctor appointments.
She was an avid gardener, loved to travel, paid attention to local and national politics and never missed voting in an election, including last November's presidential election.
Sister Imelda Rose is survived by her sister Colleen (Hammeke) and spouse Ray Youngers; her sister-in-law Catherine Hammeke, and many nieces and nephews. Sister Imelda Rose was preceded in death by her parents and her brothers Omer, Paul, Gerald, and John Hammeke.
She is buried at the convent cemetery.