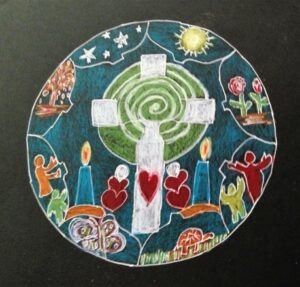 By Sister Clare Boehmer, ASC
Ash Wednesday begins the liturgical season of Lent that Catholic, Anglican, and some other mainstream Christian churches observe.
The placement of ashes on a person's forehead, and the ritual of receiving them at the beginning of Lent remind us that we are not alone as we make our way through the next 40 days of prayer, fasting and giving to others in need.
The ashes themselves are a reminder of the fragility of our physical life, something that the Covid-19 pandemic has reminded us of over the past year. The pandemic has forced us to live in uncertain and sometimes chaotic times of adjusting to a world being battered and re-shaped.
Prayer is as crucial to experiencing a blessed Lent as it is crucial to living a blessed life. It doesn't need to be learned or clever, grammatical, or even verbal. Prayer is simply communication with God by whatever name you know him or her. As in any communication, it involves honesty in speaking and attentiveness in listening.
Actually, the pandemic itself gives us many opportunities to practice prayer, fasting, and giving. Even a cursory following of the daily news shows us many prayer intentions: the rising death toll and its effects on families; the economic hardships caused by unemployment; the shortage of food and adequate housing. The list goes on.
Fasting is most commonly associated with abstaining from food or reducing food intake. But that's not the only form of fasting. At the heart of fasting is a desire to do something special for the God that we love. It can be refraining from or diminishing a destructive habit we want to break. Or it can be the daily practice of a habit we would like to develop. Or maybe it's simply denying ourselves of something that we particularly like. Again, the pandemic itself furnishes us many opportunities for fasting: being patient with the inconvenience of mask wearing, reducing physical contact with others and practicing social distancing. The choice of what to focus on and how to practice your method of fasting is up to you.
Giving to others in need may take the form of contributing money or time to a charitable cause. Or it could be giving time to a person living alone or to someone who needs a compassionate listener. Assess what you have to give of time, talent, and/or treasure and search for a good fit of what to give and to whom to give it.
I leave you with one last thought about Lent in a pandemic: As no one of us is alone in the Covid pandemic, no one of us is alone in Lent. Time and time again, the Scripture readings for the days of Lent remind us that it is we as the people of God who are on this journey that we call Lent. Lent is not a permanent state of being. Rather it is a pilgrimage, a journey to a sacred place.
That place is the Resurrection that we celebrate when Lent has melted into Easter. The scripture readings in the Lenten liturgy remind us that our God Who is a God of mercy and compassion has always been with us on and that He is with us now as we begin our pilgrimage to Easter.