Mother of Orphans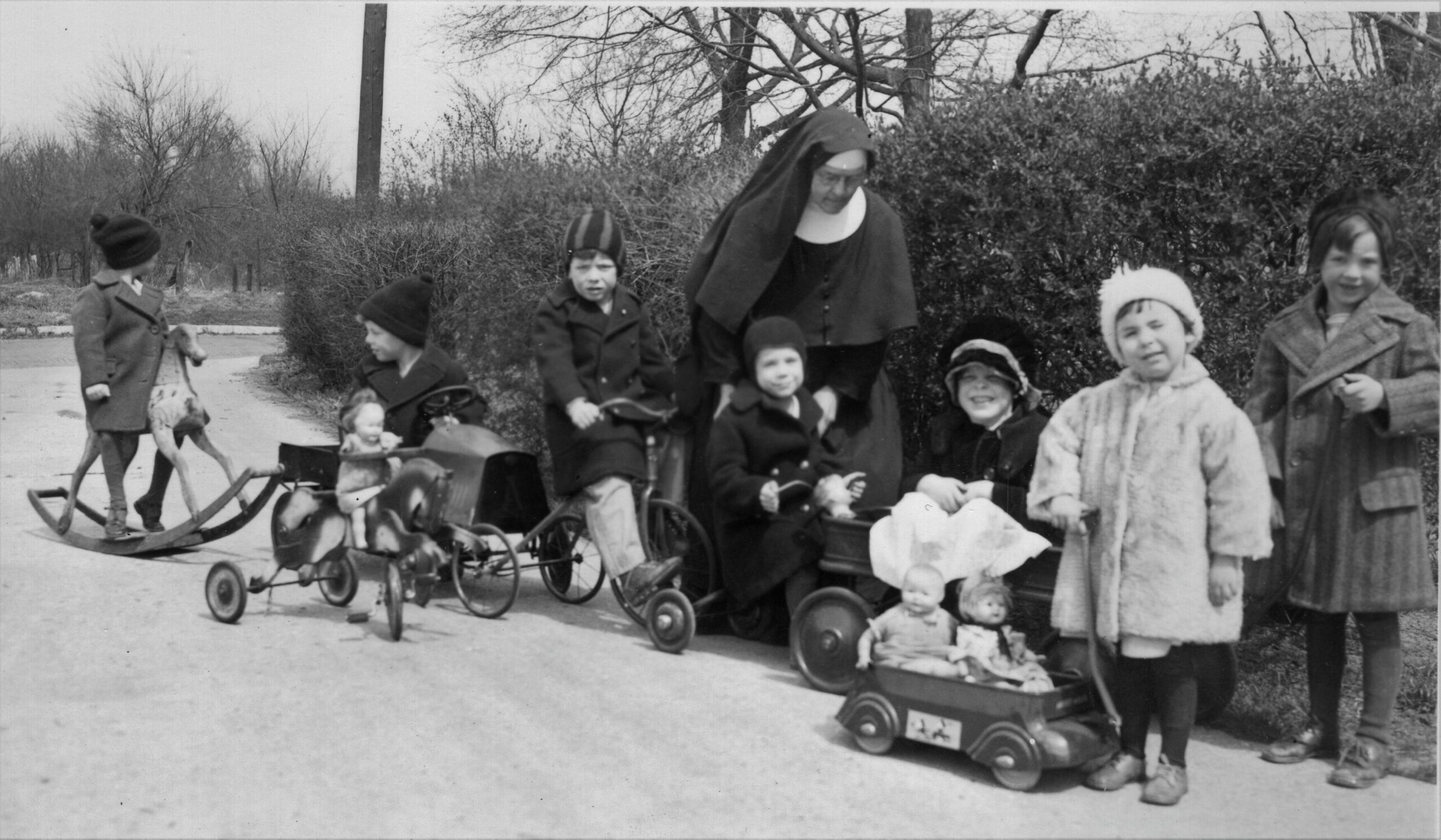 The Adorers' commitment to child care stretches from our earliest days in America to our present-day care of asylum-seeking families at our Wichita Center. Sister Cecilia Gerber blazed the trail for us.
Born in Vimbuch Amt Buehl, Baden, Germany on November 27, 1851, she was the fourth of eight children. Her parents named her Theresa.
Theresa, at age 24, joined five other young women who traveled in June 1876 from Germany to America with Clementine Zerr. The American foundress traveled regularly between the U.S. and Germany to bring young women to America. Theresa was one of them, a postulant who arrived in Ruma, Illinois, on that hot July 6 in 1876. She made first vows as Sister Cecilia on July 16, 1878 and final vows on Aug 1, 1891.
Bishop Baltes of the Diocese of Alton Illinois, for a time sent the orphaned wards of the diocese to Piopolis, Illinois, where Cecilia was in charge of their care.
Alton Orphanage
After one year in Piopolis, Sister Cecilia Gerber and the orphans moved to Alton, Illinois, to the newly established children's home. She directed the Alton orphanage for the next 27 years and became an expert in all phases of child care, convinced that loving care was the best way to control the children.
She disciplined the children herself so that they did not need to answer to too many authority figures. Indeed, she became Mother Cecilia. In addition to caring for the children, Cecilia also supervised expansion of the home necessitated by a rise in the number of children needing services.
She endured two years of slanderous accusations from a janitor whose lies were believed by the bishop and some of the priests. Eventually she was exonerated, and her accuser lost his job.
By 1910, worn out by the ordeal, overwork, and poor health, Sister Cecilia Gerber was diagnosed with tuberculosis and spent some time at St. Clement's Hospital in Red Bud, Illinois.
At the urging of Bishop Ryan who promised to pay for Cecilia's care and medical expenses, she returned to the orphanage where she died on Oct. 30, 1910 surrounded by the chaplain, the Sisters, and the children.
Remembered
One funeral service was held at the cathedral in Alton. Her remains were brought to Ruma for another service. She was buried in the convent cemetery.
Cecilia had entered the community at age 24, a bit older than others, and died at age 59, a still-young age, even in 1910.
During her 35 years in religious life, she set a standard for child care that became a norm for Sisters who ministered at the Catholic Children's Home in Alton for more than a century, from 1883 to 1984.