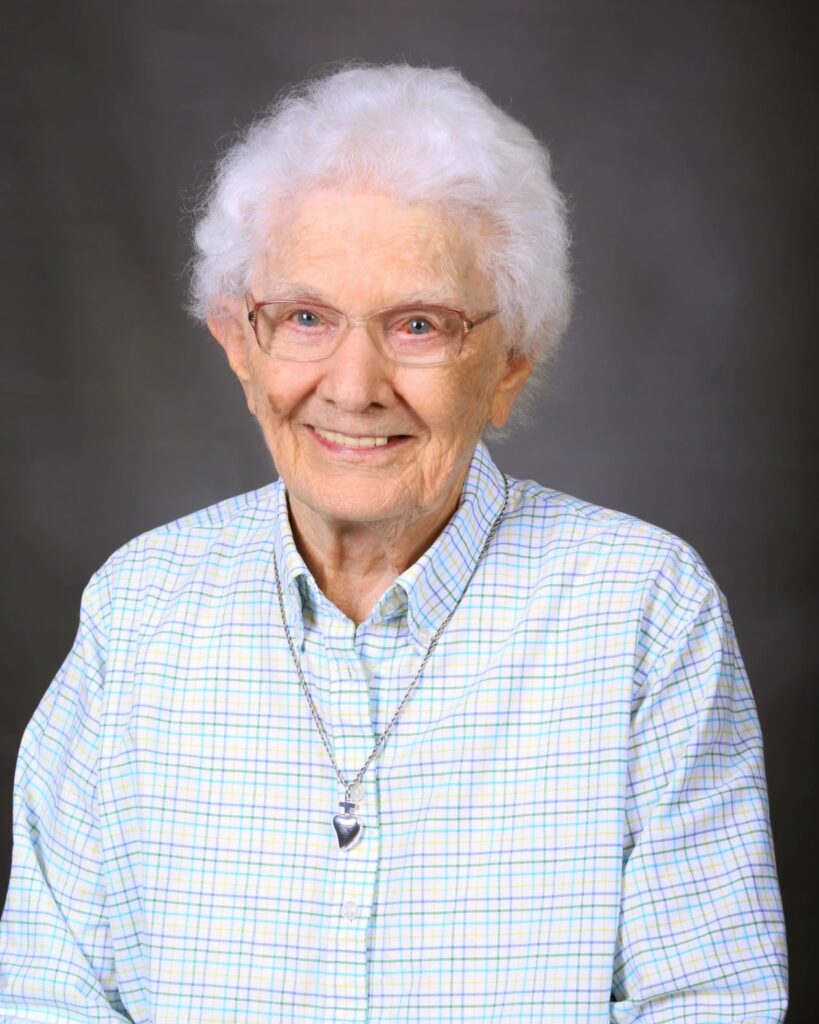 Sister Bernita Marie Leiker, ASC, a Kansas native who ministered in Brazil for 44 years, died May 19, 2021, at Caritas Center, in Wichita, Kansas. She was 97 years old, and had been a professed Adorer of the Blood of Christ for 80 years.
Bernita Marie was born January 16, 1924 in Antonino, Kansas, to Alex C. and Agnes (Klaus) Leiker, the fifth of nine children. She once wrote that the cool water of her baptism on a snowy day left her cool-headed ever since.
The middle child of a farming family, she lost her mother at age 6. Her father kept the family together and everyone shared chores.
She entered the Adorers in September 1939, made first vows in 1941, and final vows in 1946.
Bernita Marie attended Catholic grade school in Antonino, Kansas, but lacked formal, higher education. She took correspondence courses as a young woman in Brazil, where she learned by doing.
After several years of domestic work in Kansas, Nebraska and Texas, she volunteered to serve in the Adorers' newly opened Brazilian mission. She studied Portuguese, packed supplies, and left Wichita for Brazil on November 17, 1948 at the age of 24.
Bernita Maria ministered in six places over 44 years in or near Brazil's Amazon region. She started schools in Coari, Codajaz, Altamira and Santarem for street kids, then oversaw renovation of a large house into a 20-bed hospital in Belem. 
In Fortalza, she started an elementary school and a laundry, as a means for poor women to earn a living. She also started a nursery and training program for the women.
She returned to Belem in 1966, where she stayed until 1992, managing the bookkeeping, banking, purchasing, shipping and banking needs of the Precious Blood Fathers' mission.
She once said she kept the "water pumps running, machines fixed, leaks sealed and the guests happy." She recognized how her ministry freed up others to teach, provide health care, evangelize, and do social work and pastoral work.
She returned to Wichita in 1993, and found readjustment to U.S. life difficult.
She volunteered for her community, and helped at two Oklahoma and Missouri parishes. She retired to Wichita in 2008.
Bernita Marie moved to Caritas Center health care unit in 2016 but had one last adventure starting in 2018. At the time, the Adorers were hosting African families – some of them Portuguese-speaking — who were seeking asylum in the U.S. She gladly stepped into the role of an easy-to-hug, great-grandmother figure to their children.
The body of Sister Bernita Marie will be welcomed home to the Wichita Center on Friday, May 21. A wake service will be held at 7 p.m. The Mass of Christian Burial will be celebrated at 10:30 a.m. on Saturday, May 22 with Tom Welk, CPPS, as presider and homilist. Both the wake and funeral will be livestreamed. Burial will be at the Wichita Center cemetery.
In addition to her Sister Adorers of the Blood of Christ, Bernita Marie is survived by numerous nieces and nephews. She was preceded in death by her parents, brothers Walter, Wilfred and Victorinus, and sisters Irene, Albertina, Virginia, Ruby and Pauline.