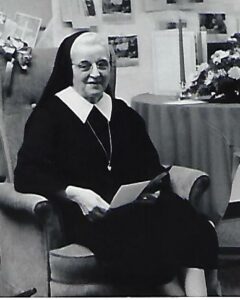 A favorite and memorable saying of Sister Annunciata Lorenzo was, "bloom where you are planted." She lived this idea fully, and bloomed in every sense of the word. All but two of her ministries kept Annunciata in Columbia, Pennsylvania, but she was able to accomplish many things, keep a great sense of humor and be a gentle compassionate presence to all whom she met.
Sister Annunciata Lorenzo was born November 15, 1902 in Punxsutawney, Pennsylvania, a town known for its annual Groundhog's Day celebration and Punxsutawney Phil, the groundhog that predicts weather.
Early Years
Her parents were of Italian heritage. She studied education at Mercyhurst College in Erie, Pennsylvania, and taught at the motherhouse, in Steelton, Pennsylvania, and in Chicago.
Sister Annunciata Lorenzo served the community in many ways while living at the motherhouse in Columbia, spending many years as its dietitian. She would often make beautiful molded Jell-O desserts for each table. Every mold would be different and exciting to see. Annunciata also served as the provincial superior from 1947 to 1956. She was an avid quilter and created many lovely quilts.
Oversee Expansion of St. Anne's Home
As administrator of St. Anne's Home, now St. Anne's Retirement Community, Sister Annunciata Lorenzo supervised an expansion of 44 new rooms, a 100-seat assembly room, a library, gift shop, offices, and a physical therapy room. All parts of the new addition were bright and colorful, which the residents and staff really enjoyed.
She also came up with the idea for the village expansion and occupational therapy section of the home, both of which eventually came into being.
Annunciata was quiet and soft spoken with a genuine sense of love and concern for every person she met.
Just as she enjoyed quilting, she quilted together beautifully all parts of her life.