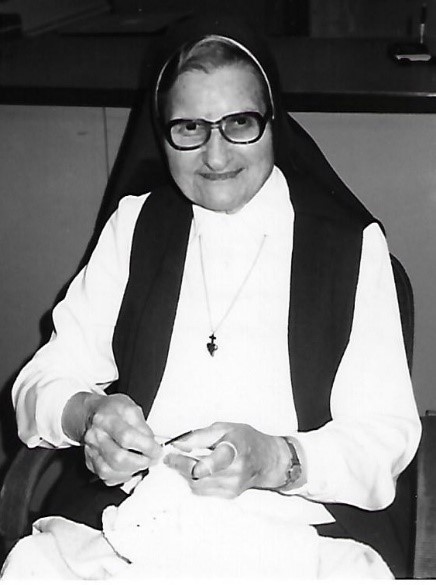 Sister Mary Benedict Bakarich (originally, Catherine) was born in Steelton, Pennsylvania, in 1903 and raised by Croatian parents and grandparents who taught her the values of family, faith and service.
She was taught by the Adorers of the Blood of Christ, which at that time had their central house, Nazareth House, in Alton, Illinois. She entered in Alton and professed her vows there with the new name of Mary Benedict. Mother Paulina Schneeberger relocated the motherhouse from Alton to Columbia, Pennsylvania in 1925. During the next year, Mary Benedict professed her final vows at the new site, 25 miles from her home.
Early Life in the Convent
In the early years of her convent life, Sister Mary Benedict Bakarich experienced poverty and many hardships, as the community struggled in its early years in America. She credited Mother Paulina's kindness and understanding, spirit of sacrifice, and deep faith and trust in the Providence of God for helping her get through the difficult years.
Sister Mary Benedict Bakarich loved music and served as adult and children's choir director and as organist in several parishes. She directed the band for temporarily professed sisters at the motherhouse. She helped the youth in schools put on plays, and she had a great sense of humor. She encouraged and mentored young sisters in the art of teaching.
Organize Lay Retreats
She accepted a challenge to organize, guide and moderate lay retreats in 1942.
She later wrote, "I know I registered 'shock' when I was asked to do this without preparation, but I'd gladly do it again. You know, we never knew what we would be asked to do, and we never questioned whether or not we could do it."
She continued to be a listening presence throughout her life. In her semi-retirement, she spent many hours listening to people who came to her for advice.