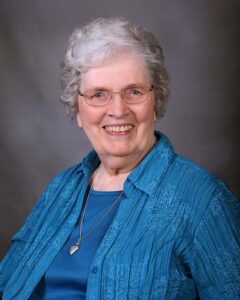 Sister Margaret Knoeber, ASC, a scholar, educator and trailblazer, died October 31, 2020, at Caritas Center, in Wichita, Kansas. She was 89 years old and had marked, just this past summer, 70 years as a professed member of the Adorers of the Blood of Christ.
Sister Margaret grew up in the 1930s and '40s on a small farm in Spearville, Kansas, with her parents, John and Olivia Knoeber, and five siblings.
Following an early education in her hometown, she attended high school at Sacred Heart Academy in Wichita, Kansas, where she entered novitiate with the Adorers in 1949. She made her vows in 1950 and 1955.
She took summer classes in the early 1960s at Creighton University, and later received a one-year scholarship to the University of Notre Dame, where she was one of 65 women religious who attended the all-male school through a special graduate program.
In 1967, she earned a doctorate in organic chemistry, a field with only a handful of women at the time. She did her research under renowned chemist Ernest Eliel, an experience she later recalled as a turning point in her career.
She returned to Sacred Heart College to teach chemistry, and within a year, had created a chemistry department and four-year degree program. She also established the Pre-Med Committee to help students get accepted into medical schools. She continued teaching at Sacred Heart, later Kansas Newman, now Newman University, until 1977 after a diagnosis of multiple sclerosis challenged her ability to stand for long periods of time.
She went on to serve as Newman's alumni director in the 1980s, as a member of the Adorers' leadership team for six years, and as co-founder and director of a Newman pastoral ministry program in Dodge City, Kansas, where she helped pioneer interactive television technology to bring the program to rural western Kansas. She also was her congregation's archivist.
Her body will be returned to the Wichita Center on Wednesday, November 4, 2020, first to Caritas Center at 1:30 p.m. and then to the Woman of the New Covenant Chapel at 2 p.m. Wake services will be held at 7 p.m. Her private funeral for the sisters and family will be celebrated at 10:30 a.m. on Thursday, November 5, 2020. Tom Welk, CPPS, chaplain for the Wichita Center and a close friend of Margaret's, will preside.
Sister Margaret Knoeber is survived by her sister Adorers, and siblings Gertrude Kessen (Paul); Dorothy Devine; Julia Kessen (Don); and Clem Knoeber; her sister-in-law Kathy Knoeber and nieces and nephews.
She was preceded in death by her parents; her brother James, and her brother-in-law Frank Devine.