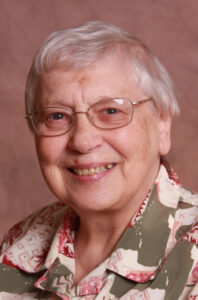 Adorer Who Worked as a Nurse in Illinois Dies

Sister Mary Maurice Loepker, an Adorer of the Blood of Christ for 68 years, died Friday, July 10, 2015 at the Ruma (Ill.) Center. She was 86.
Sister Mary Maurice, ASC was one of eight children born to Joseph and Isabella (Wichmann) Loepker and grew up on the family farm in Bartelso, Ill., where she was taught by Adorers at St. Cecilia School.
At 17, she went to work as a nurse's aide at the Mother of Good Counsel Home for the Chronically and Incurably Ill in St. Louis and began considering a religious vocation. In 1946, she came to Ruma to complete high school at the former Precious Blood Institute.
She received her nurse's training at Saint Louis University where she earned a bachelor's of nursing degree in 1954.
She worked for 17 years at St. Vincent (now Taylorville) Memorial Hospital in Taylorville, Ill., from 1954 to 1961 and from 1963 to 1973 and for 36 years at St. Joseph Memorial Hospital in Murphysboro, Ill., from 1961 to 1963, 1973 to 1983, and 1985 to 2009. In 2004, she was named Unsung Hero at St. Joseph Memorial Hospital.
She worked, sometimes as a supervisor, in various departments including obstetrics, medical-surgical, emergency, special care and spiritual care.
She also served her sisters at the Ruma Center over the years, working as a financial assistant, community prayer leader and singer in the choir. She also loved to send cards and notes and to visit with friends.
She was preceded in death by her parents; her brothers Charles, Paul and Louis; her sisters Anna and Margaret Beckmann; and her sister-in-law Florence (Charles) and brother-in-law John McDowell. She is survived by her brother Severin, sister Rosemary McDowell, sister-in-law Frances (Paul), and brother-in-law Alois Beckmann as well as many nieces, nephews, friends and her sisters in community.
A wake service was held Sunday, July 12 followed by a Mass of Resurrection on July 13, both in the Ruma Center Chapel.
The Rev. James Dougherty presided and Sr. Barbara Hudock, U.S. regional leader, gave a reflection. She was buried in the Ruma Center cemetery.
---