By Sister Dani Brought, ASC
I have spent the past 2 ½ weeks in a blur of organized chaos that is a 500-bed migrant shelter in a vast warehouse in El Paso, Texas.
Casa del Refugiado Center or House of the Refugee, was set up two years ago by Annunciation House, an immigrant advocacy group, to serve the influx of migrants, mostly from Central America, but from as far away as Haiti, too.
In my short time here, my heart has burst with emotion. My mind has filled to the brim with lots of new information and my spirit has flown in chaotic motion. My body is tired. But my hope is to be a peaceful, compassionate, positive presence in the midst of so much suffering, uncertainty, and change. 
Casa del Refugiado is set in a huge old warehouse that has been broken down into dormitories with cots, dining rooms, welcome and intake areas, a clothing room, clinic area, office, and telephone space, volunteer sections, and different storage rooms.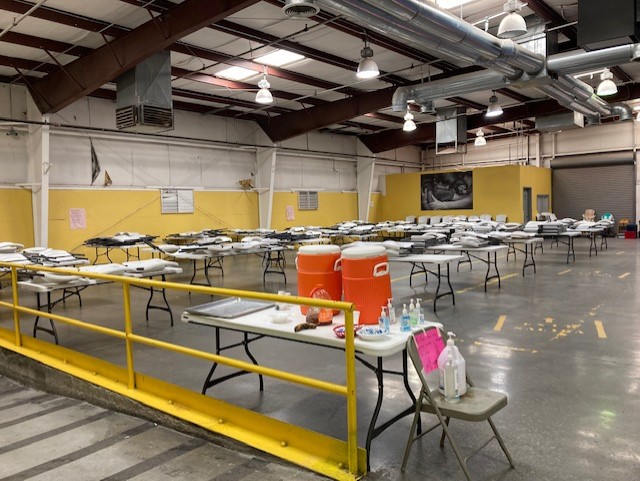 I still spend a good part of my time wandering around trying not to look too lost as I search for where I am supposed to be.
I have worked both days and overnight shifts receiving refugees, testing migrants for Covid, helping to set up travel arrangements with their sponsors, serving food, providing a change of clothing, and offering a sense of security. 
Outside the guests' dormitory is an outdoor area with 25 port-a-potties, a trailer with 20 showers, and a long line of portable sinks. Several of us have scrubbed and scoured and cleaned the whole area.
The hard work comes with a sense of satisfaction of doing something to help make this part of the journey comfortable for those who have been through so much.
At most, Casa is able to welcome up to nearly 800 refugees. Each day, as many as 40 are released from the detention centers or from border police and come to the center for one to three days of transition before moving on to family members, friends or sponsors.
On my first day, a woman with whom I was doing the welcome interview and testing learned she was positive for Covid.
After letting her know and placing her in a small isolation room, I sat with her for a few moments as she cried at the realization that her journey would now include a time of quarantine. I searched for words of comfort but found that quiet presence and sitting in acceptance of her sadness and tears was what she needed most. She and her waiting husband would have to wait still longer before traveling on to Florida to be with family.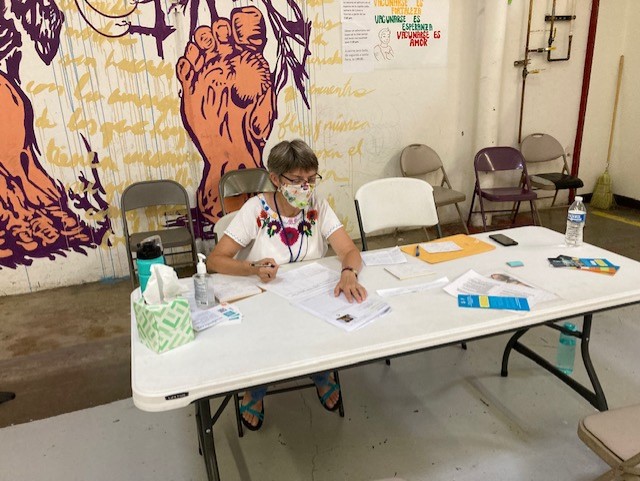 As they started their quarantine together in a small, hot isolated room known as the "Covid Hotel," I brought them a fan, a change of clothes, a place to wash up, lunch, and a blessing.
The best part of the job is joining those who are able to leave for their next destination, handing them a travel bag, saying goodbye, and waving with a smile and a blessing as they board the shuttle taking them to the bus station or airport. 
My recent experience with quiet and shy Elena from Guatemala, eight months pregnant, made me tear up as we walked together to her bus.
She stopped, and reaching out her hand and heart, said "Gracias. Muchas gracias," thanking me for the food and everything else.
Something so simple, sharing of food, yet so meaningful.