Her name is Ruby Bridges, in full Ruby Nell Bridges, in marriage Ruby Bridges-Hall.  Perhaps few remember her name, but when her actions are recounted there is a predictable "Oh, yeah, I remember now."  Ruby was born in 1954, the same year that Brown vs. the Board of Education was decided in favor of desegregation.  Of course, things did not change overnight.  It takes many years to remove barriers and change minds and hearts.  Admittedly, our nation still struggles with racism at many levels.  But Ruby Bridges played a significant role in moving our country forward in the arena of civil rights.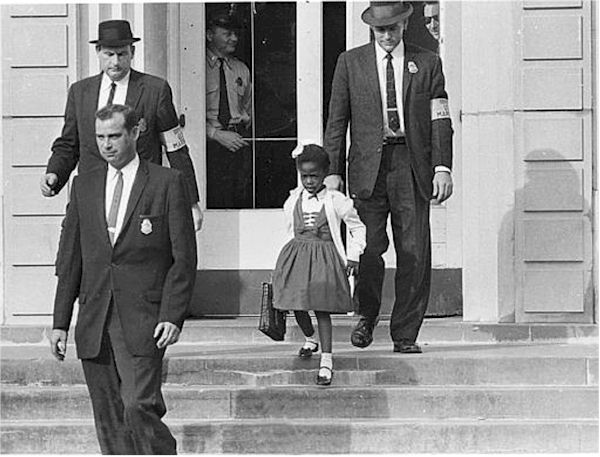 Ruby was the youngest of six African American children selected to enroll at the William Frantz Elementary School in New Orleans in 1960. Ultimately, of the six she was the only African American child to enroll. On her first day of school (November 14, 1960), Ruby spent the whole day in the principal's office while irate parents marched into school to remove their children. On her second day, a young teacher from Boston, Barbara Henry, began to teach her. Ruby and her teacher spent the entire school year in that otherwise vacant classroom. Each day Ruby ate lunch alone. Some days her teacher spent recess with her. Her teacher and a child psychologist, Robert Coles, were her main confidants during that year. Ruby never missed a day of school.
American artist Norman Rockwell memorialized Ruby's brave action in a painting he titled The Problem We All Live With (1963). In that iconic painting he depicted the young Bridges walking to school between four federal marshals. A racial epithet marks the wall behind them. The painting marked more than one moment in time. Every day, as the marshals escorted Ruby to school, they urged her to keep her eyes forward so that, though she could hear the racist remarks and threats of an angry crowd, she did not have to see the cruel remarks scrawled on the signs held by raging protestors. Toward the end of the school year the crowds became thinner and by the following year several more African American students were enrolled in the school.
Rev. Dr. Martin Luther King, Jr. said, "The arc of the moral universe is long, but it bends toward justice." A brave six-year-old played a significant role in bending the arc of the moral universe toward justice. In her immediate environment, her action had repercussions for her family: her father lost his job, her grandparents were evicted and her mother was refused service at the grocery store. But they persisted, and by their individual and collective action they became bridges that connected in spite of the efforts around them to create division.
It was her name, Ruby Bridges, that first drew my attention. The charism entrusted to us as Adorers of the Blood of Christ is reconciliation. Various shades of red are emblazed on our letterheads and on depictions of our logo. At our best, our actions are ruby bridges, bringing people together, making present the love of a God willing to shed blood as an expression of compassion for all humanity. The brave action of a six-year-old girl who today continues to be a civil rights activist is a challenge to all of us who profess to be reconcilers. Her name is Ruby Bridges.