By ASC Sisters Rose Anthony Mathews and Anne Irose
For many years, a sweetgum tree graced the front of the Ruma Center, providing beauty, shade, and a home for countless birds and squirrels. On April 12, professional tree trimmers took the tree down because its sweetgum balls made walking hazardous. We will not miss the gumballs, but we will remember and cherish the tree's beauty, especially in Fall.
Two weeks prior, the maintenance men measured the circumference of the tree, 94 inches, and gave me the information to ascertain its age. Information on the Internet said the circumference divided by pi (3.14159) x 2 would give the age of the tree. According to that formula, the tree was 59.8 years old, and planted in the spring of 1961. I was told there were 66 to 68 rings that would imply the seedling planted was six to eight years old.
Take note of the heart in the center of the tree. It must have known it was planted on holy ground and gave its whole heart to its purpose of being here, just as each of us has done in the years before and after the sweetgum tree.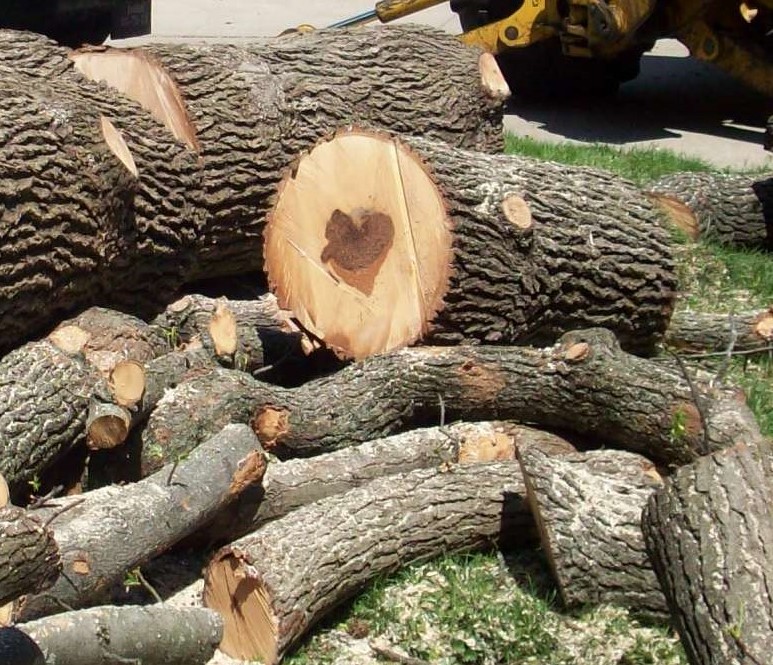 Personally, I will miss the budding of the spring green foliage; shade in the summer; the orange-red leaves in Fall and its winter skeleton. Actually, winter was the time I could best be entertained watching the squirrels play "hide and seek" or "catch me if you can," exhibiting their speed, agility and trapeze skills.
On Earth Day, new life appeared in the empty space at the Ruma Center entrance where our beloved sweetgum tree had stood. Workers planted a slim Redpointe maple in its place. They also planted a red maple, a swamp oak, a merlot red bud and a crabapple tree in the grove at Ruma Center. The crabapple is near the statue of St. Francis of Assisi.
Welcome to the Ruma Center!
As we share life together on this holy ground, may we join all the creatures of the Earth in proclaiming joy and praise to the Creator.