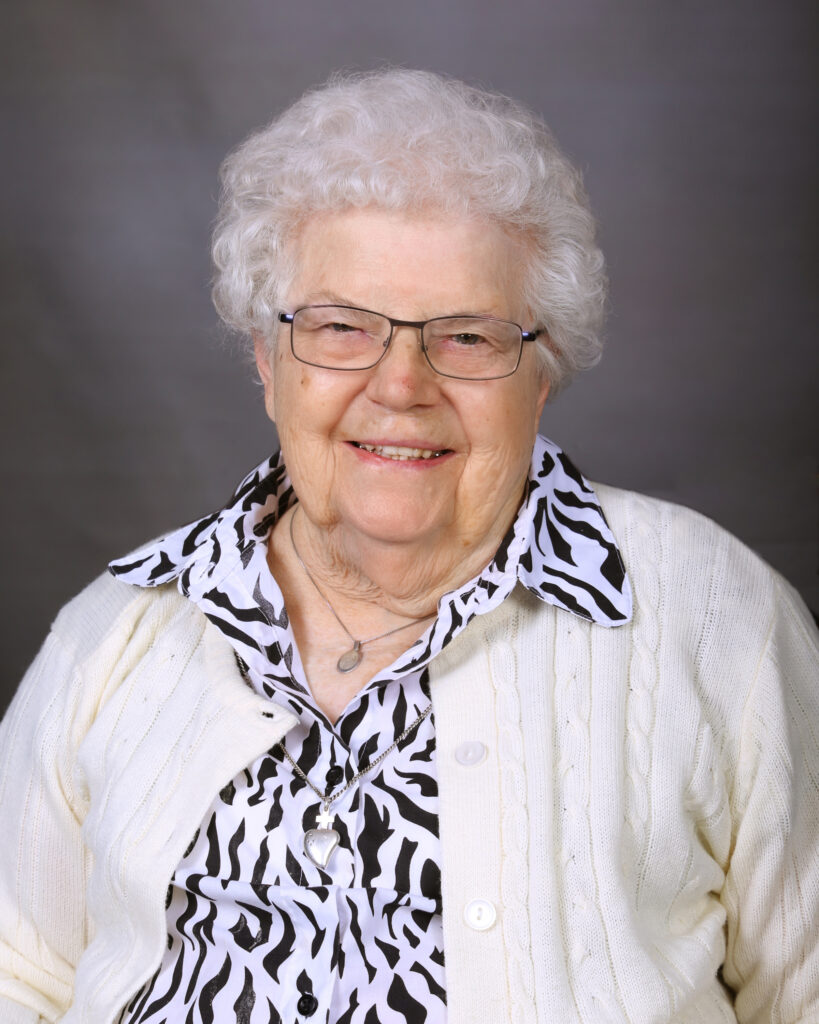 Sister Barbara Riebel, ASC passed to eternal life at 11:00 a.m. on April 25, 2021 at Caritas Center, in Wichita, Kansas. She was 97 years old and had been professed as an Adorer of the Blood of Christ for 79 years.
Barb was born on December 19, 1923, on a farm near Schoenchen, KS, the sixth of 12 children of Clement and Anna (Dinges) Riebel. When Barb was one, the family moved to Bazine, where she went to public school. Barb wrote about her time growing up there. "My family prayed, worked and played together. There were enough of us for games and lots of fun. Church feast days were celebrated by going to Mass, having family dinners and card games. My dad was a farmer and we all helped with the work to make it easy for everyone."
Barb first met the Adorers during summer vacation school and Sr. Teresa Palsmeier encouraged her to think about joining the community. By the time Barb was ten, two of her older sisters had made vows as Adorers. Barb wrote, "..and when they came home, we admired their spirit." She also admired Sr. Florentia's mantle. Barb and her younger sister, Winifred, took turns wearing it, one dancing around and the other keeping lookout so they were not caught.
Barb entered the Adorers in 1939 and a year later received the name Sister Norberta as a novice. She made first vows on August 10, 1941 and perpetual vows on August 11, 1946. She described it as "…a great day for my Sisters and family."
Except for a one year assignment as a Sister housekeeper in Kinsley, KS, Barb's initial ministry was in dietary services in hospitals staffed by the Adorers. After coursework in Milwaukee and St. Louis, Barb was certified as an Advanced Dietary Supervisor. She served at St. Francis in Carlsbad, NM, followed by two years in Artesia, NM; then St. Luke's in Marion, KS. and St Mary's in Enid, OK.
In 1973, Barb went to Great Bend, KS to care for her mother while she worked as a CMA at Great Bend Manor Home. Two years later she moved to Oklahoma City where she ministered in various positions at St. Ann's Home over the next 33 years. She started as a Dietary Supervisor and later served in Pastoral care. Then, in in own words: "In 1980, I was given an opportunity to go to Cosmetology School and was licensed. I worked at St. Ann's beauty shop for 22 years." Barb was attentive to appearance and saw her ministry as supporting the dignity and well-being of the residents.
When Barb returned to the Wichita Center, she opened a beauty shop for the Sisters. She also volunteered as a Eucharistic minister at the Center and St. Francis Hospital.
Barb enjoyed visiting with her siblings and extended family. This ranged from small events (often playing cards), to large family reunions in various parts of the United States (always with card games).
When Barb moved to Caritas Center, she remained engaged with the larger community that extended to Newman University. The Adorers initiated The Landing, a place for students to relax away from their dorms. Several times students were invited for game night with the Sisters and Barb was always ready to teach anyone how to play cards, especially Pitch. Even after a fall necessitated using a motorized wheel chair, Barb made her way to the Chapel for services, to the dining room for meals and to the card table for Pitch until COVID limited access.
The body of Sister Barbara will be returned to the Wichita Center on Thursday, April 29, and a wake service will be held at 7 p.m. that evening in the Woman of the New Covenant Chapel. The funeral liturgy will be celebrated at 10:30 a.m. on Friday, April 30, with Tom Welk, CPPS, as presider and homilist.
Preceding Barb in death were her parents, her sisters, Sister Winifred, ASC and Arlene Drake; and brothers Norbert, Paul, John, Victor and Leon. Barb is survived by her sisters, Sister Florentia, ASC and Sister Leona, ASC along with her brothers, Wilbert and Melvin. Many nieces and nephews into the second, third and fourth generations also survive, as well as the Sisters of the ASC Community.
Barb, during your life you traveled from the very small rural town of your birth to large cities in the US, and to countries around the world. Your life-journey here has ended; and a new eternal life-journey begins.
Adorers of the Blood of Christ
United States Region
April 26, 2021