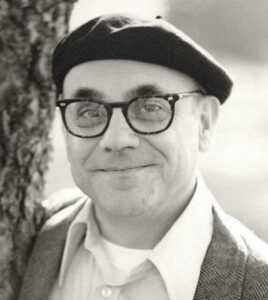 By Sister Barbara Jean Franklin, ASC
We learned last week that the talented St. Louis-area sculptor Rudolph "Rudy" Torrini died Wednesday, Sept. 5. He was 95 and died from complications of dementia.
Mr. Torrini, the son of an Italian immigrant mold maker and a silent movie pianist, was renowned for his public sculptures that grace the St. Louis area. His works include the likeness of a soccer player, a police officer, a boy and his dog, Italian immigrants, Dr. Martin Luther King Jr., Pope John Paul II, and a 9-year-old child who was slain in the crossfire of a gunfight.
But the sculpture that is special to the Adorers is the one on the grounds of the Ruma Center of our missionary sisters killed in Liberia 26 years ago, our five "Martyrs of Charity." He sculpted the women in a circle, their arms outstretched and hands clasped, their faces pointed to the heavens in jubilance.
He had said he kept the design simple to reflect the simplicity of their lives in Liberia. He had them in a circle to symbolize their unity and the "crown of their martyrdom." "Theirs was the ultimate gift in a time which is all about getting," he wrote.
The sculpture, dedicated June 26, 1994, is an opportunity to share the Sisters' story with those who never knew them. For the rest of us, it remains an inspiration, both of their lives, and the sculptor's gift of showing humanity and spirit despite the tragedy.