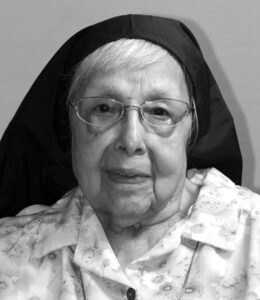 Sister Angelita Alfaro, an Adorer of the Blood of Christ for 68 years, died Wednesday, Oct. 26, 2016, at the Wichita Center in Wichita, Kan. She was 89.
She was born Nov. 19, 1927, in El Dorado, Kan., the fourth child of Trinidad and Carmen (Huaracha) Alfaro. She made her first vows on July 1, 1948, and her final vows on July 1, 1953.
Sister Angelita baptized Josephine, earned a bachelor's degree in education at Sacred Heart College (now Newman University) in Wichita in 1960. She earned two degrees from Wichita State University, a master's degree in Spanish and a Specialist in Language degree.
She taught elementary students, her "the dear little ones," for about 15 years. She taught Spanish at Newman University for another 15 years. Her bilingual English/Spanish abilities were welcomed in parish ministry, as a sponsor of ASC associates and director of religious education.
She was eager to help undocumented people with the paperwork needed to become citizens in Elkhart, Kan., and Loving, N.M. She visited tornado survivors in Saragosa, Texas as a Catholic Church Extension Society team member. She also served as her mother's caregiver for a year and translated biographies of St. Maria De Mattias, Sr. Clementine Zerr, and Sr. Seraphina Cinque into Spanish.
She enjoyed drawing, taking photographs, and making scrapbooks.
In 2008, Sr. Angelita retired to the ASC Wichita Center, and three years later, to Caritas in the Center.
Sr. Angelita was preceded in death by her parents, her brothers Louis and Ralph, and her sisters, Mary Lou, Margaret, and Edith. She is survived by her sister Carmen, her brothers Trini, Henry and Michael, many nieces and nephews, great-nieces and nephews, and the ASC community.