Educator and Yankees Fan Dies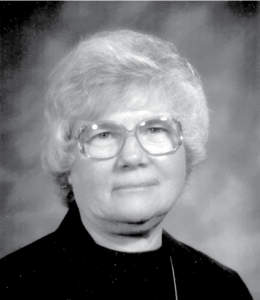 Sister Lucille Kerschen, a lifelong teacher and professed Adorer of the Blood of Christ for 73 years, died Wednesday, April 10, 2019 at the community's Wichita Center. She was 89.
Sister Lucille, a native of Aleppo, Kansas, was the fourth youngest of 10 children who lost her mother at age seven. She spent her childhood on the family farm. Her older sister Remigia entered the Adorer community before her.
Lucille entered the Adorers of the Blood of Christ in Wichita, Kansas, on September 6, 1943, professing first vows July 1, 1945, and final vows five years later.
Lucille graduated from Sacred Heart Academy in 1947 and from Sacred Heart College – now Newman University — with a bachelor's degree in education in 1958. She earned a master's degree in theology at Saint John's University, Collegeville, Minnesota in 1978 and a certificate in pastoral ministry from Loyola University, Chicago in 1985.
During a long career in education, she was a principal, a Wichita Diocese school supervisor, a religion teacher, a language arts teacher, a librarian, and a House of Prayer core member. She taught eighth-graders in the Wichita Diocese for 48 years.
She was a principal of St. Francis of Assisi, Wichita, and St. Nicholas School and St. Peter and Paul School in Kinsley, Kansas. She taught at various Catholic elementary schools in Ellinwood, Kansas; Kinsley, Kansas; McAlester, Oklahoma; and Wichita, Kansas.
In 1990, she was nominated by a former student and was named to "Who's Who Among America's Teachers." A plaque and Bradford pear tree honor her service at St. Joseph School in Wichita.
She was creative, loved to sing, and was an avid reader. She was a devoted New York Yankees fan and loved clowning.
Lucille is preceded in death by her parents and most of her siblings. She is survived by her brother Walter of Wichita; nieces, nephews, friends and former students; and her fellow Adorers.
Donations in memory of Sister Lucille Kerschen may be sent to the Adorers at 4233 Sulphur Avenue, St. Louis, MO 63109 or made online at www.adorers.org