It has been 22 years since ASC sisters were martyred during the Liberian Civil War. In honor, we revisit a reflection written by Sister Regina Siegfried, ASC to commemorate the 15th anniversary of the deaths of the Martyrs and published in Review for Religious, October 2007.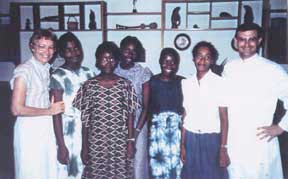 October 20, 1992—Rebel soldiers shoot Mary Joel Kolmer, ASC and Barbara
Ann Muttra, ASC, their guard Peter, and two ECOMOG (Economic Community of West African States Cease Fire Monitoring Group) soldiers on a stretch of road to Barnersville,Liberia, West Africa.
October 23, 1992—Five armed NPFL (National Patriotic Front of Liberia) men arrive at the Sisters' home in Gardnersville and kill Kathleen McGuire, ASC, Agnes Mueller, ASC, and Shirley Kolmer, ASC.
October 31, 1992—Early-morning phone calls and radio announcements break the hearts of family, friends, and Sisters who learn that the five Adorers of the Blood of Christ had died days ago.
***
October, 2007— Fifteen years hold enough days to dull the pain most of the time, to create narratives that may or may not match the deep stories of community myth, and to reflect on the meaning of lives poured out. Martyrs and prophets are easy words used to honor the dead and to venerate Sisters we'd rather have still living and laughing in our midst. Do they call to us today to be courageous in a world still violent, broken, war- ravaged, and suffering? How do we respond not only to their valiant lives but also to our own deepest longings to be credible witnesses?
In the early days of Christianity, the word martyrs meant witnesses, disciples of Jesus, those who proclaimed His life, death, and resurrection and who preached the good news of the household of God in their society and culture. Luke 24:48 clearly states: "You are witnesses of these things." Acts 1:8 indicates the same interpretation of the word: "But you will receive power when the Holy Spirit comes upon you, and you will be my witnesses in Jerusalem, throughout Judea and Samaria, and to the ends of the earth." In Acts 10:40-41 we read: "This man God raised on the third day and granted that he be visible, not to all the people, but to us, the witnesses chosen by God in advance, who ate and drank with him after he rose from the dead." By the second century, execution for faith became associated with martyrdom. But martyrs are first and foremost witnesses to the Gospel and messengers of a new way to live. The Constitution of the Adorers of the Blood of Christ uses the phrase credible witness in the section on Gospel poverty: "To give credible witness to the liberating poverty of Christ in the world today and to grow toward poverty of spirit, we live in evangelical simplicity, personally and as community." (#18)
To be credible witnesses can often mean that we could lose much of what society holds precious; status, material goods, comfortable lifestyle, and easily expendable income can voluntarily or involuntarily fall away. Credible witnesses see beyond and beneath the obvious, the material, and the sufficient to live in solidarity with those who hold enough invisible wealth and power and grace to convert even witnesses to a new way of living. Credible witness are prophets who speak truth to authority, who advocate for the powerless, and who become voices for the silent. They bear witness to the pain, suffering, and anguish in the lives of others simply by being there with them, sharing in the blatant unfairness and violence of lives that deserve much, much better.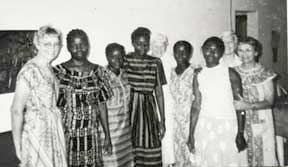 The Adorers killed in Liberia were credible witnesses long before bullets claimed their lives, long before their blood soaked the soil of a war-torn country whose people were precious and dear to them. The details of their lives and deaths are now familiar and recorded elsewhere. Those who knew them recall quite vividly lives dedicated to the poor, to women, to children, the sick, and to students years before they went to Liberia to witness to the Gospel there and to discover a different face of God, a countenance that would impel them to insist on returning to share again in the passion of the Liberians suffering in a relentless and seemingly endless civil war.
Even as the conflict slowly escalated, Barbara Ann was more concerned about getting a grant to purchase five Hondas "so some of our physician assistants can go to these villages for supervision. Some villages are over 10 miles interior over rough dusty roads." (March 21, 1987 Letter from Klay, Liberia to her friend Meg Wittenbrink) After a year in Liberia, Agnes wrote on May 24, 1989 to Angelita Myerscough, ASC, "I'm sure I am not the same person who came a little over a year ago now. I feel my life is much richer for having spent time with these people. They have given me every bit as much as I have shared with them." On April 21, 1990, writing to Marisa Nardoni, ASC, in Tanzania, Mary Joel reflected on the readings after Easter:
All the readings are from the Acts of the Apostles and it is so reassuring to
read how strong they were now that His Spirit has taken over in them.
And how we should be because the Spirit is with us and is here, guiding
us, leading us on. It must have been something like the saints experienced
when they were put on the line for Jesus, how they knew that He, the Lord,
was their Savior and that life had meaning for them and that they
could stand up for him, even though it meant being killed. It is such
a powerful message. And He can do so much in us and through us,
if we're only open to Him.
Barbara Ann, Agnes, and Mary Joel were in Liberia for the people, not to get killed. Years of service in the United States were background for more service to people in Liberia. Not naive, they knew the risks of being with people who were suffering more than they were. Kathleen and Shirley had reputations in the United States as bold and fearless advocates in the face of injustice. When Shirley was provincial of the then Ruma province, she sent mail grams to Tom Enders, Assistant Secretary of State for Inter-American Affairs, to the Guatemalan Embassy, to Senator Charles Percy, Senator Alan Dixon, and Representative Paul Simon to express "deep concern regarding four workers missing in Guatemala and the disappearance of two Dominican nuns from Grand Rapids, Michigan. I urge you to support HR 101, stopping U.S. aid to Guatemala." In 1987, Shirley wrote a lengthy essay on "Human Suffering and Its Consequences for World Peace," maintaining that, "it is the very lives of many of our brothers and sisters who live a life of suffering, an existence that borders on the intolerable every day." Even before Kathleen became the Peace and Justice coordinator for the then Ruma province, she drafted a "Possible Diocesan Pastoral Letter Regarding Peace and the War in the Persian Gulf" when she ministered in the Jefferson City, Missouri diocese. She called for "the whole Catholic community to pray for a peace which is life-sustaining for all our sisters and brothers. We have to acknowledge that we are citizens of a nation which readily uses military force to secure its national interests and to attain its political objectives all around the world."
These are simply small examples from the lives of women who lived as credible witness years before they were killed in Liberia.
If we consider them martyrs, we can just as readily regard them as prophets. Prophets speak truth to authority; prophets proclaim the coming of the household and reign of God in season and out of season. Like roses in December, prophets are unexpected messengers, witnesses, and signs of God's presence among us. Prophets are the most credible of witnesses, for their lives are their words and their words are their lives. Standing and staying in solidarity with the suffering, the neglected, and the forgotten, prophets choose life in the face of death and pour out compassion for people bent down by injustice and oppression. Prophets might flinch in the face of violence and injustice, but they do not run away.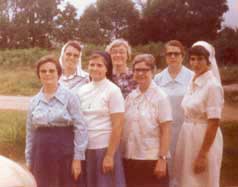 Fifteen years removed from the days of raw grief, disbelief, and pain offer us a cautionary tale. Life and the mission and our ministries have indeed moved on, developed, and deepened, something the five absent from our midst would want. The caution comes with the tendency to settle for the mediocre, to choose complacency and comfort, to opt for the safe, the familiar, and easy because we might fear the new, the unexpected, and a different vision for our congregation. Our charism is wild, fierce, fiery, tender, and urgent. It impels us to live our ordinary lives with extraordinary passion, grace, and commitment. Violence seems to circle our globe like pollen caught in the air currents. As Liberia and Croatia seem to have reached some modicum of normal existence, uprisings erupt in Afghanistan, Palestine, and Iraq. Children and women are trafficked; slavery isn't as over as we once thought.
Today, in post-war Croatia our Sisters are witnesses and prophets, living the Gospel message even with "many Sisters left with serious repercussions and traumas which they feel to this day," Sister Ancilla Vukoja, ASC reports. When their Serb Orthodox neighbors expect to be turned away from the drug rehab center the Sisters had opened in Aleksandrovac (in the vicinity of Banja Luca) because of the violence they committed against the Sisters and Croatians, the Sisters responded to the Serbs, "We read the Scriptures and in these words we find the forgiveness and strength to be persons of love toward all." Their martyrdom is witnessing forgiveness and reconciliation. Some of them remember the trauma of being forced to cross a mine-laced bridge over the Sava River following in the exact steps of the Sister leading them through as they sang the Magnificat. When a journalist asked Sister Maristella how she felt and what she thought about, knowing that she was facing death, she replied, "All I could think about was the many other people who were dealt the same fate. I felt that my life was no more important than theirs. I thought that it was even harder for them because, unlike us, they had children who would be orphans." The Adorers who walked that path traveled in spirit with the Sisters who fled the Sino-Japanese war in China in 1937, with the ASCs who were held hostage several times and narrowly escaped death in the Congo between 1959-1964, with the Sisters who stayed and suffered with the people in Guinea Bissau during the civil war there, and with the ASCs who trudged on a road out of Liberia in 1990. As credible witnesses, the congregation has a history of walking difficult routes because the charism impels us to stay beyond the expected time and to remain with people who are precious to us.
Sister Ancilla writes:
Times like those, however, sometimes uncover unknown heroic potential,
readiness to suffer and offer one's life for others, for goodness and love
toward others. I cannot but think of our Sisters who voluntarily remained in
Bosnia during the fiercest conflicts and danger, sharing the fate of the
Catholics in that country. They could have retreated to safety but did not
out of solidarity for those who could not leave because they did not have
the necessary documentation. They realized then more than ever that they
were needed by their people. They were a sign to which a suffering
people were able to turn and where they could find a trace of hope
and protection.
Our charism, our slain Sisters, and our own hearts call us to live in deep compassion with all the pain and suffering of the least among us. That stance and life make us the best we are meant to be because our charism pulses with the life of all the people of the world. Our charism is wild, fierce, fiery, tender, and urgent. We need to be where the need is greatest. Are we?
---
Background Resources
Boehmer, Clare, ASC. Echoes in Our Hearts. Ruma, IL: Adorers of the Blood of Christ, 1994.
Konieczny, Stanley. Acting in the Most Noble Tradition: The Life and Ministry of the Adorers' Five Martyrs of Charity, ASC Profiles 14. Rome: International Center of Spirituality, Adorers of the Blood of Christ, 1999.
Kolmer, Elizabeth, ASC. "The Death of Five Adorers of the Blood of Christ and the Changing Meaning of Martyrdom." U.S. Catholic Historian (24:3, Summer, 2006): 149-164.
Okure, Teresa, Jon Sobrino and Felix Wilfred,Eds. Rethinking Martyrdom. SCM- Canterbury Press, Ltd. 2003.
Schubeck, Thomas L. "Salvadoran Martyrs: A Love That Does Justice. Horizons (28:1, Spring 2001): 7-29.
Siegfried, Regina, ASC. "Choose Life: Reflections Ten Years after Five Deaths." Review for Religious (61:5, Sept-Oct, 2002): 472-480.
Vukoja, Ancilla, ASC. "How the Sisters in the Zagreb Region Lived Their Charism During the War and the Post-War Period (particularly in the area in the vicinity
of Banja Luka). May, 2007.
---
Read more about this chapter in Adorer history by clicking here.