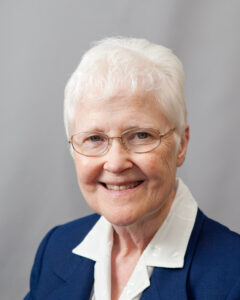 Sister Celine Hasenfratz, ASC died Tuesday, Sept. 22, 2015. She was 76 and an Adorer of the Blood of Christ for 57 years.
She grew up on family farms near Perry, Okla., and Marion, Kan., and for a time, after her mother's death in childbirth, with relatives in McPherson, Kan. She lived with the Sisters of Divine Providence during the week so she could attend Catholic school, and came home on weekends.
Sister Celine assumed domestic responsibilities at age 11, when her stepmother died, and learned sewing, cooking and baking at a 4-H club. Her first exposure to the community of religious women she would join in 1957 was a summer school program taught by ASC sisters at a Catholic church in Marion.
She graduated from Sacred Heart Academy in Wichita, and worked summers at St. Luke Hospital in Marion with the ASC sisters.
Sister Celine made her first vows in 1958 and final vows in 1963.
She graduated from Sacred Heart College (now Newman University) in 1962 with a bachelor's degree in education, and earned a master's degree in elementary education at Northwestern State Teachers College in Alva, Okla., in 1969.
By 2011, she had completed 50 years of elementary education in Kansas, Oklahoma and New Mexico, and served as a school principal for more than half of them. She worked at Sacred Heart School in Ness City, Kan.; St. Edward School in Carlsbad, N.M.; St. John School in Spearville, Kan.; Sacred Heart School in Colwich, Kan.; St. Joseph School in Ellinwood, Kan.; All Saints School in Wichita, Kan.; St. Helena School in Hobbs, N.M.; Sacred Heart School in Pratt, Kan.; St. Joseph School in Conway Springs, Kan.; Holy Name School in Winfield, Kan.; Sacred Heart School in Arkansas City, Kan.; School of the Magdalen in Wichita, Kan.; and Sacred Heart in Oklahoma City.
She loved teaching children computer skills, used a recognized language program for teaching Spanish, and, as an accelerated reader coordinator, expanded their vocabulary and reading skills. She searched for creative ways to instill a love for reading in children.
In 1996, she taught English in Croatia.
Upon semi-retirement at the Wichita Center beginning in 2011, she worked in the community's Archives. She loved having a front-row seat in the unfolding history of the ASC community.
Sister Celine is survived by her brothers Richard and Kenneth, nieces and nephews, and the ASC community.
She was buried in the community cemetery.