Adorer Who Never Quite Retired Dies at 89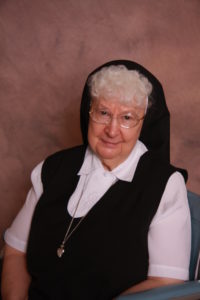 Sister Rita Marie Lucash, ASC, died Monday, Oct. 2, 2017, at the Ruma Center, Ruma, Ill.
She was 89 years old and was a professed member of the Adorers for 70 years.
Sister Rita Marie was born Nov. 17, 1927, in Freeburg, Ill., the third of four children of Walter and Estella (Nehring) Lucash. She made first vows on July 1, 1947 and final vows on July 1, 1952.
She worked in elementary education for 40 years as a teacher, principal and organist. Her assignments in Illinois included Immaculate Conception in Centreville, St. Boniface in Evansville, Sacred Heart in Dupo, St. Augustine in Belleville, St. Lawrence in Lawrenceville, St. Clare in O'Fallon, St. John in Smithton, St. Mary in Chester, St. Bruno in Pinckneyville, St. Ann in Nashville and both St. Matthew and the Catholic Children's Home in Alton. In Missouri, she served at St. Augustine in Kelso, St. Andrew in Tipton and St. Jerome in St. Louis.
She earned a bachelor's degree in geography with minors in education and philosophy from Saint Louis University in 1967. She graduated from the religious education program at Creighton University in Omaha, Neb., in 1990, and the ministry to ministers program at St. Mary's in San Antonio, Texas, in 1992. She also was a certified catechist, attending more than 60 courses in catechesis.
Even after Sister Rita Marie moved to the Ruma Center in the early 1990s, she remained active, doing clerical work, assisting the provincial secretary for six years, working with the Ruma Center activity director, chauffeuring, lectoring at Mass, playing the organ for liturgies and prayer services, delivering mail to the sisters and proofreading whenever she was asked. She enjoyed embroidery, listening to classical music and working crossword puzzles. She loved to pray the rosary and had a green thumb.
Sister Rita Marie is survived by Areta, wife of her brother Arthur, nieces, nephews, great nieces, great nephews, and members of the ASC community.
She was preceded in death by her parents, her brothers Marcellus, Arthur and Walter (Edna Mae).
Visitation for Sister Rita Marie on Monday, Oct. 9 in the Ruma Chapel will start at 3 p.m., followed by a prayer service at 7 p.m. A Mass of the Resurrection will be celebrated at 10:30 a.m. on Tuesday, Oct. 10 in the chapel. A burial in the Ruma convent cemetery will follow.
---
Donations in Sister Rita Marie's memory may be made online by clicking here or sent to the Adorers of the Blood of Christ, U.S. Region Mission Center, 4233 Sulphur Avenue, St. Louis, Mo., 63109.