By Sister Ann Fearday, ASC
For believers, Advent is a sacred journey of hoping, waiting and preparing, and in my case, more deeply understanding self. Months after I completed a 32-day, 424-mile pilgrimage along the Camino de Santiago (Way of St. James), I still am savoring the experience and coming to understand my whole life as a sacred journey.
Looking for God
I looked for God along the way of the Camino to Santiago de Compostela in northwest Spain, as well as at the end, and realized that my tracing the path where others have trodden for centuries has become a part of my life tapestry.
Welsh poet R.S. Thomas said, "The point of traveling is not to arrive, but to return home laden with pollen you shall work up into honey the mind can feed on."
Not a day has gone by since my return, that I have not savored a pinch of the pollen.
Yet, the experience was a leap of faith. Before leaving, I had wondered:
If I was physically up to the challenge
Whether the trip would exhaust my meager resources
How I would be without the support of loved ones
What it would be like to encounter many people of different cultures, languages and backgrounds
And, perhaps the biggest question, could I sleep on bunkbeds in big dormitories for a month?
Outside my comfort zone
The journey stretched and called me out of my comfort zone, and strengthened my faith and trust in a God who takes such tender loving care of me.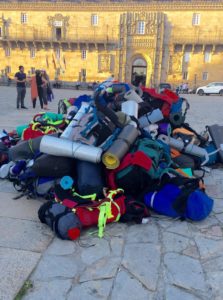 At times, I was so exhausted and lonely that I was ready to throw in the towel, but the next morning, my fellow pilgrims inspired me to start again.
Over the 32 days, I came to understand more deeply what it means to be a pilgrim, a person who journeys to a holy place. People have been walking various routes through France, Spain and Portugal to the Shrine of St. James the Great in Santiago de Compostela since the 9th century. My personal journey was but one thread in a tapestry of other pilgrims' personal journeys and desires for peace, healing, self-knowledge, you name it, that preceded mine.
Carrying only the bare necessities made me acutely aware of how little I really need in life, and inspired me to simplify my life.
The journey also motivated me to continue my pursuit of God and make prayer and meditation an integral part of my life.
We are all pilgrims
Unlike tourists who may seek adventure and comfort, pilgrims are in search of other things. As I walked, I contemplated and treasured my 70 years of life, 50 years as a Sister, and 40 years of ministry in Bolivia.
Walking every day for long periods of time quieted my internal noise and made room for peace. I connected with people, and learned more about myself, my ego and motivations.
Many pilgrims, including me, find the Camino to be life changing. But there are other, no less dramatic caminos in everyone's life, whether a journey through serious illness, divorce, violence, loss of employment and identity, or upheaval from a devastating fire or flood like so many are experiencing this year.
This Advent, name your camino and contemplate what it is teaching you. Comment below!
Where is the journey taking you?
How has it changed you in the process?
What has it led you more deeply to know of yourself and your relationship to God?