Put it in the history books. Today we return to Liberia.
After a lapse of 25 years, the Adorers of the Blood of Christ officially reinstate our mission in the west African country.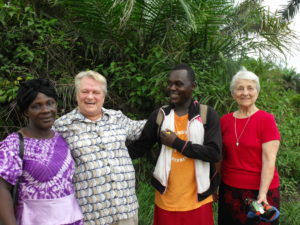 Sister Therese Wetta from Wichita, Kan., and Sister Zita Resch from Schaan in Liechtenstein will arrive in the capital of Monrovia tonight. They will start a new adventure in a place from which we were torn so brutally a quarter of a century ago.
Invited in the 1970s by a persistent missionary priest, a handful of Adorers traveled to Liberia to staff schools, clinics, hospitals and parish schools of religion. Then more arrived, and still more, and as the years passed, Adorers fell in love with Liberians and the work, though it was challenging.
We stuck it out through two civil wars until five of our missionary sisters were murdered in October 1992. Then horror, disbelief, silent grieving and long reflecting about what had happened and where it would lead.
After a long spell, we returned to reconnect and visit old friends. Sister Raphael Ann Drone, one of our pioneer missionaries in Liberia in the 1970s, returned to work for a nonprofit there in two different stints in the 2000s.
Liberia always tugged at our hearts. It was never out of sight in our minds' eye. It's inevitable that we'd return some day.
Last month, George Weah, a retired professional soccer player, became the 25th president of Liberia. And today we return after a 25-year absence.
It's a new time indeed for Liberia, and the Adorers.
Therese and Zita will stay in the capital from a week to 10 days while they collect supplies and organize themselves for the move south to Grand Cess.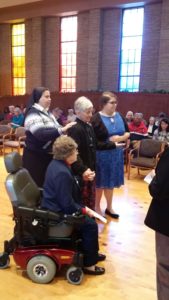 At a missioning service for Therese last Sunday, which happened to be our founder's birthday, three women stood with Therese as she received an anointing and blessing. The oldest represented our community's heritage and history; the youngest, our community's dreams for the future; and a Sister from Rome, our internationality.
The many Sisters, Associates and friends raised their hands in blessing Therese (and Zita, remotely) and said:
"We promise to hold you and the new community in prayer as you join the people of Grand Cess, Liberia. May you face the challenges ahead with courage."
And with them, may we all muster the courage to face our own challenges and greet our new adventures with confidence and calm hearts.