By Sr. Janis Yaekel, ASC
I am Sister Janis Yaekel, ASC and I have pancreatic cancer. In fact, I have lived with cancer since 2012. I hope to share in my blog my journey and my reflections on the presence of God in my life. It is my hope that those who read my entries will find strength for their own journeys. 
---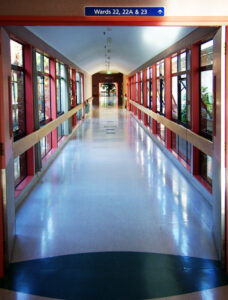 My oncologist, Dr. Tan, gave me great news from the results of my recent CT scan and MRI, which showed no increase in the size of the tumor and perhaps even a little shrinkage.
Dr. Tan is a little puzzled by my case, I think.  My journey has had more twists and turns than a pretzel. He was happy for me, and we said a little pray of thanks and blessing over each other.
When I received the good news, I set my life back into "drive" from the earlier "park" or holding position I had put myself in as I awaited results. I felt myself shift into gear once again to move forward.
I know that for the next couple of months, I can breathe easy.  I suppose if the news is ever not so good that I might move into reverse at first. But I really believe that even then, I soon would start moving forward toward a new moment in life.
Having said this, I would like to focus this week on those who walk by the side of a person with cancer: the husband who carries his wife's purse as she gets ready for her first chemo treatment, the wife who keeps all the appointments and paperwork in order, the friend who comes along just to 'be' there during a long office visit or chemo treatment.
These are the people who help us cope with the "not knowing:" the siblings, sisters-in-law and sisters in community, the ones who keep the family informed when we cannot.  They are our advocates when we don't have the strength to push to get our needs met. They are the ones who sometimes have to tell us to get off the pity pot, put on our big-girl pants and move on. They hold us in our joys, fears and sorrows.
I have been fortunate to have many such people.  My family has been super caring. The nurses at our convent have been friends, mentors and advocates.  The sisters in my community have expressed in so many ways their support, whether in words or an out-stretched hand that squeezes mine.  I have friends who listen to my fears, dreams and worries and who make me laugh about the craziest of things. Even our four-legged friends keep us company through the long night and make us smile with their playful antics.
These are the caregivers of grace, the better angels who sprinkle the lives of people with cancer, a heart condition or traumatic injury, and who share our journey.
I, for one, think you are the greatest. You have my deepest gratitude for all that you do.
---