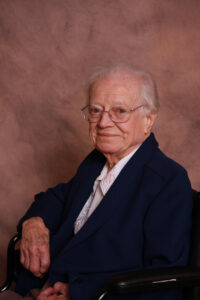 Sister Mary Bernard Braun, an Adorer of the Blood of Christ for 78 years, died Sept. 10, 2015, in Ruma, Ill. She was 97.
Sister Mary Bernard, baptized Georgia, was the eldest of three children born to Aloysius and Mabel (Carron) Braun. She grew up in Dupo, Ill., and attended St. Teresa Academy in East St. Louis, Ill., until she joined the community of Adorers and completed high school at Ruma.
She made her first vows on July 1, 1937, and final vows on July 1, 1942.
She earned her bachelor's degree and master's degree in history, both at Saint Louis University.
She taught at the elementary, secondary, and university levels. In the Belleville diocese, she served at Saints Peter and Paul Elementary in Waterloo, St. Mary in Chester, St. George in New Baden, St. Cecilia in Bartelso, St. Ann in Nashville, and St. Rose in St. Rose. She also taught at St. Mary in Taylorville in the Springfield, Ill. diocese.
Her secondary teaching experience was at St. Teresa Academy in East St. Louis, Precious Blood Institute in Ruma, and Gibault High School in Waterloo, all in Illinois. During her 20 years at Gibault, she taught history in the Advanced College Credit program, affiliated with Saint Louis University.
After retiring from teaching, Sr. Mary Bernard served as a parish minister to seniors at Guardian Angel Parish in Oran, Mo. She began Living Mission in Later Life in 2005, first in Waterloo, and in 2009, at the Ruma Center.
She had a great appreciation of humor and created it out of everyday life. She was an avid writer who contributed to local and diocesan newspapers and to community publications and even wrote brief histories, including one for St. Patrick Parish in Ruma and another about Father Pierre Gibault, the Jesuit missionary for whom Gibault High School was named.
Her clever way with words often provided light entertainment at milestone birthdays of some of her sisters and colleagues as she created dialogues and toasts in their honor.
Sr. Mary Bernard coached speech and debate teams and directed plays. She was a strong champion for women's rights and started a volleyball team for girls at Gibault. She also coached it for several years.
She was preceded in death by her parents, her brother Arnold and sister-in-law Dottie, her sister Janette and brother-in-law Jim Turner, and her nephew James Bernard Turner. She is survived by many nieces and nephews, great nieces and great nephews, students, friends, colleagues, and the ASC community.
She was buried in the Ruma Center cemetery.