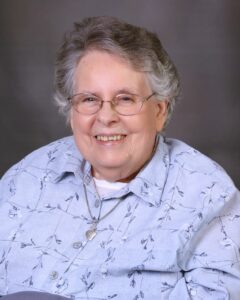 Sister Stephanie Mertens, ASC died Thursday, January 7, 2021 at the Ruma Center, Ruma, Illinois.
She was 87 and had been a vowed member of the Adorers of the Blood of Christ for 69 years.
She earned degrees in theology and religious education in St. Louis and Washington, D.C., and went on to teach as her first ministry.
In Illinois, she taught at St. Albert the Great in Fairview Heights, St. Elizabeth in East St. Louis and St. Matthew in Alton. In Missouri, she taught at Visitation in Vienna and St. Joseph in Zell.
She also taught a year at Holy Rosary in Fort Dodge, Iowa.
She taught parish religious education in Pinckneyville and Tamaroa, Illinois, and was Religious Education Coordinator for the Archdiocese of St. Louis.
For 10 years, she was Director of Social Concerns for the Diocese of Jefferson City, Missouri, and served in a similar role for her community for 18 years.
In 1993, Sister Stephanie testified before the Senate Foreign Relations Committee's Subcommittee on African Affairs about the murders, a year earlier, of five Adorer missionaries in Liberia.
In the late 1970s, she advocated and demonstrated for farmers suffering in the national farm crisis and served as the convener of the Farm Alliance of Rural Missouri.
In 1984, Springfield (Missouri) News-Leader columnist Frank Farmer called Sister Stephanie one of the leaders in the cause of bringing parity to farmers, that is, receiving a market price that met or exceeded their cost of producing farm products.
She was a voracious reader and enjoyed watching nature shows on television. She was instrumental in promoting a congregational meeting and conference in Ruma about concerns for the planet.
She is buried in the Ruma Convent cemetery.